Author Roger Naylor to talk about the Mother Road in Ash Fork April 14
Originally Published: March 27, 2018 10:17 a.m.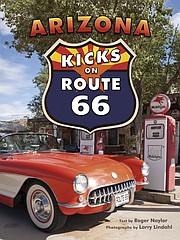 ASH FORK, Ariz. – Author and travel writer Roger Naylor will discuss one of his favorite topics, Route 66, at the Ash Fork Museum April 14 at 11 a.m. The event is free and open to the public.
Route 66 in Arizona crosses stark badlands, cloud-swept plateaus and a desert painted in scandalous hues. The road explores forests of tall pines and forests where trees have turned to stone. It brushes past volcanoes, craters and the ruins of ancient civilizations. Amid the scenic splendor, the highway John Steinbeck referred to as the "Mother Road" passes through small towns and the skeletons of towns. If the Grand Canyon is the heart of Arizona, then Route 66 is the main artery.
More travelers looking for an old-fashioned road trip and a way of life they were afraid had vanished, exit the interstate to dip their wheels into the mythology of the untamed road. Although Route 66 exudes a timeless quality, a fresh vibrancy has taken hold as new businesses open and restorations salvage existing ones. And in 2016, Route 66 turns 90 years old.
Naylor is the author of the book "Arizona Kicks on Route 66." Released in April 2012 from Rio Nuevo Publishers, "Arizona Kicks on Route 66" has gone through five printings. The book captures the astounding scenery, small town getaways and homemade pie along the Arizona portion of the Mother Road. The stunning visual images in the book are from Larry Lindahl, a longtime photographer for Arizona Highways. The book retails for $12.95 and will be available following the lecture.
Naylor is one of Arizona's premier travel writers. His work appears weekly in the Arizona Republic. He has contributed to USA Today, Arizona Highways, Western Art & Architecture, Go Escape, Route 66 Magazine and dozens more. He is the author of several books, including "The Amazing Kolb Brothers of Grand Canyon," "Boots & Burgers: An Arizona Handbook for Hungry Hikers" and "Death Valley: Hottest Place on Earth" as well as "Arizona Kicks on Route 66." More information is available at www.rogernaylor.com.
SUBMIT FEEDBACK
Click Below to:
More like this story