Williams schools losing up to $185,000 in forest fees
Elimination of the Secure Rural Schools Act in 2015 has impacted school budget
Originally Published: March 20, 2018 3:29 p.m.
Coconino County forest fees designated for WUSD
2012 – $178,573
2013 – $168,709
2014 – $194,033
2015 – $183,741
2016 – $142,317
2017 – $0
2018 – $0
*Source Coconino County
WILLIAMS, Ariz. — Williams Unified School District is one of several districts seeing a withering of federal support this year because of the failure of Congress to reauthorize the Secure Rural Schools and Community Self-Determination Act in 2015 (SRS).
The act, distributed by the Department of Agriculture, compensated schools and the county for lost property tax revenue because of a decline in traditional timber harvesting.
Between 2000 and 2015, Coconino County received $3 million to $4 million of SRS funding each year from the federal government, with approximately 35 percent of that distributed to county schools.
In 2017, with the loss of the SRS program, the county received just $300,000 from the USDA.
That reduction has directly affected the WUSD budget which received close to $200,000 each year from the county in what is commonly referred to as "forest fees." The district received no forest fee money in 2017 and 2018.
The impact
WUSD currently distributes the payments into its maintenance and operating budget and has mainly used it for infrastructure projects. The governing board approved $200,000 of forest fees last year for the purchase of six security doors and an intercom system, and replacement of 270 desktops, laptops and iPads at the schools.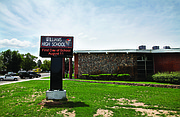 In 2014, WUSD used $75,000 of forest fees to install new ADA accessible plastic bleachers at the Williams High School gymnasium, and in 2013, $17,000 of forest fees were used to build a sidewalk from the high school to the WUSD administrative building.
When funding for the Secure Rural Schools program expired in 2015, it left more than 775 counties and 4,400 school districts nationwide with budget shortfalls. Rural counties now receive up to 80 percent less than what forest counties received under SRS.
How it can be used
The last distribution of forest fees was in March 2016 when Department of Agriculture (USDA) Secretary Tom Vilsack announced the distribution of approximately $272 million that went to 41 states and Puerto Rico in support of local schools, roads and forests through the Secure Rural Schools and Community Self-Determination Act.
According to the USDA, the payments, which are administered by the U.S. Forest Service, may be used to support public schools and roads; to help maintain and improve the health of forests; and for other county needs like implementation of fire prevention projects, development of community wildfire protection plans and reimbursements for emergency services on national forests.
Forest projects are reviewed and recommended by resource advisory committees made up of local residents working together to improve the environment and to help provide jobs in rural communities.
The origination of the Act
Historically, counties containing federal lands received payments from the federal government based on the presence of such lands and the revenue they generated. A 1908 act required that 25 percent of the revenues be allocated to rural counties and schools.
In the early 1990s, federal timber sales began to decline as the country saw changes in forest management. In response, Congress passed the Secure Rural Schools and Community Self-Determination Act of 2000 as a temporary payment program. SRS payments were distributed to counties based on historical revenues rather than current revenues from forest use.
Authorization for SRS payments was originally set to expire in 2006, but Congress extended the program through FY2015 with several reauthorizations and extensions. The last authorized payment was made in FY2016.
With SRS expiring, federal payments to the counties reverted back to the 1908 revenue-based system at 25 percent of revenues, which brought in significantly lower payments than what was paid with the SRS program.
Environmental organizations such as the Wilderness Society support the reauthorization of SRS. They believe the act benefits rural communities by supporting the schools and protecting national forests.
According to Coconino County Supervisor Matt Ryan, the county is still pushing to reauthorize the SRS program with Washington. He believes the program is not a priority with the current administration.
"If anything, the $300,000 is the high point and it will probably go down," Ryan said. "So it's a big hit, a very big hit for our schools."
President Trump's budget did not include a renewal of the funding, however some congressional members are considering options to address county payments, including reauthorizing and possibly modifying SRS or implementing other legislative proposals to address the loss of federal funds.
Rep. Jared Polis, (D-Colo) and Rep. Mark Meadows, (R-N.C.) with the support of 37 members of Congress, introduced legislation in 2017 to reauthorize SRS. The bipartisan PILT and SRS Certainty Act would reauthorize SRS for five years and provide funding for Payment In Lieu of Taxes (PILT) for five years at an annual level of $465 million.
"Sixty-two percent of counties nationwide have federal land within their boundaries. PILT and SRS help to improve the quality of life and economic strength in these communities," said National Association of Counties Executive Director Matthew Chase in a statement.
State funding and rural schools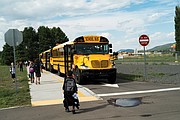 Although Arizona schools are set to receive a large influx of new cash largely because of the passing of Proposition 123 in 2016, many educators are still concerned about the education opportunities for rural students.
According to a report by the Rural School and Community Trust in 2015, one in four public schools are rural and families typically face higher costs of living in these rural communities. Districts struggle to find quality teachers to provide rich, diverse educational opportunities.
Rural districts receive much less federal Title I funding per student than urban districts, and rural districts tend to have large geographic areas with an increase in costs for buses, technology and infrastructure needs.
Arizona Rural Schools Association estimates that approximately 135 of Arizona's 223 school districts are rural. These schools serve about 35 percent of all students in the state, according to Don German, ARSA executive director.
The Rural School and Community Trust report ranked the 50 states, revealing those with the greatest needs in rural education. The report looked at student achievement, state resources, and college and career readiness, among other factors.
The report found that rural communities were not only dealing with low per student investment, but also low educator pay, high costs of living, diversity, low-income, lack of early childhood programs and lack of college readiness and Advanced Placement courses.
Arizona was one of the top 10 priority states in the report, coming in second behind Mississippi. Other states included Alabama, South Carolina, South Dakota, Georgia, Nevada, Florida, Oklahoma and Alaska.
The report stated more than half of all rural Arizona students are minorities, nearly seven in 10 live in poverty and one in 20 is a non-native English speaker. Spending on instruction is the nation's second lowest at nearly $1,500 per pupil below the national average.
According to German, some of the greatest needs and challenges facing Arizona's rural public schools are a lack of highly qualified and highly effective teachers and broadband access for technical education and curriculum delivery to help overcome isolation issues.
Arizona Gov. Doug Ducey's budget announcement in January 2018 was encouraging to some as he promised to restore $371 million to schools by 2023, with $300 million in additional spending this year for all-day kindergarten, a teacher raise and other programs.
But German said legislators, particularly those from rural areas, need to focus more on policies that will help students in rural schools.
One example is the Empowerment Scholarship Accounts, a voucher-style program that allows parents to receive state funds for private schools, and results-based funding, which rewards high-performing schools state money. Results-based funding was touted by Ducey and passed by the legislature in the state budget for fiscal year 2018.
"ESAs are not beneficial to rural Arizona because there is no other choice for most students than their local public school, so funding to make it the best possible place for an education should be a priority," said German in an Arizona Education News article. "Results-based funding only works in a totally even playing field for all students and rural students are already starting behind."
WUSD Superintendent Rick Honsinger said although he is pleased with Ducey's budget announcement, the loss of forest fees is unfortunate.
"We gain in one area and lose in another, we just can't seem to get ahead," Honsinger said.
SUBMIT FEEDBACK
Click Below to:
More like this story