Company examines 650 acres south of Seligman for renewable energy operation
By Sue Tone, Special to the Williams-Grand Canyon News
Originally Published: March 20, 2018 10:15 a.m.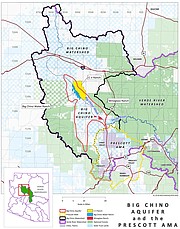 SELIGMAN, Ariz. – An electric energy generating and storage operation based on a closed pumped water system may be built in northern Yavapai County on 650 acres about five miles southeast of Seligman south of Interstate 40.
ITC Holdings, a subsidiary of Fortis Company, appeared in Prescott Feb. 27 at a meeting in which Corporation Commissioner Andy Tobin, and others, took part.
Tobin said following the meeting that this project, which will generate and store 20,000 megawatts-hour of electricity, is timely and fits with his recently released Energy Modernization Plan. The Plan calls for clean energy to provide 80 percent of energy needs in the state by 2050. Clean energy includes solar, hydro, wind and nuclear.
"This project will allow our state to better harness the potential of solar resources and put them to use during expensive peak hours," Tobin said in his Feb. 27 press release.
How it works
Two encased water reservoirs connected by a tunnel and powerhouse will generate electricity for 10 hours a day during periods of low demand, and store the energy for pumping 12-14 hours per day during peak demand.
Reversible turbines pump water from a lower reservoir to an upper reservoir during periods of low demand. Electricity can be generated on demand by flowing the water back through a turbine to the lower reservoir during high demand hours.
ITC will build three transmission lines to connect with existing lines in three counties. Connector power lines will run 47 miles to the Yavapai Substation in Yavapai County, 30 miles to the future station of Moenkopi-Eldorado in Coconino County, and 54 miles to Peacock Station in Mohave County.
"Based on a preliminary analysis, ITC believes that at least two, and possibly all three, transmission lines may be necessary to support the project," the Initial Information Package from ITC states.
Water
The initial fill of the reservoirs will take about 28,000 acre-feet of water drawn from the Big Chino aquifer. Engineers anticipate some loss of water — about 1,200 acre-feet per year — due to evaporation and leakage
According to the ITC materials, ranchers on the property currently use 2,000 acre-feet of water annually for agriculture.
The company is studying the extent and impact of potential groundwater withdrawal in its hydrogeological modelling. Other studies on the property include cultural resources, wildlife habitat, native plants, and meterorological monitoring.
Project Engineer and Director Brian Studenka, ITC Grid Development, said "We're in the preliminary stages of this project and really appreciate the input we're getting from different voices in the community. We're listening and looking at everything to make sure we get this right. Collaboration, transparency and community involvement are important to us."
As for the impact to the Upper Verde River from the initial loss of 28,000 acre feet of water, Bob Doetsch, ITC senior communications specialist, said, "It's premature for us to answer that. This will be determined through studies and through our engineering firms."
Studenka, Andrew Jamieson of ITC, and ITC consultant Don Pool will be back in Prescott to present the project at 10 a.m. Saturday, March 10, at the Citizens Water Advocacy Group meeting at the Granite Peak Unitarian Universalist Congregation building, 882 Sunset Avenue, Prescott.
The CWAG website indicates the organization neither endorses nor opposes the project at this time. CWAG's goal, however, is to assure that over the long run there is no diminution of the Verde River's base flow, no degradation in water quality, and that historical flood flows are preserved.
https://www.youtube.com/watch?v=e_c53sS5Ntc&feature=youtu.be
Benefits
ITC claims this sustainable energy source will increase the reliability of the electrical grid for northern Arizona. In addition, during the construction project, it will create hundreds of jobs over four or five years.
Permanent long-term jobs number about 30-40, in addition to contract positions for operations and maintenance services. The project should also increase the tax base in Yavapai County and Arizona.
The company will be applying for a license with the Federal Energy Regulatory Commission in 2019, and expect to begin construction in 2022. ITC is the nation's largest independent electricity transmission company operating in eight states. ITC's parent company, Fortis, bought ITC for $11.3 billion in 2016. It owns Tucson Electric Power Company and UNS Energy Corporation.
"Using water responsibly is number one for us. We're in the initial stage of talking with folks, understanding their concerns, and looking at the resources involved," Doetsch said.
Neither Doetsch nor Studenka would release the list of those who at the Feb. 27 meeting. "We are gathering input from the different groups attending the meeting, getting their input and concerns, anything that will inform our project plan," Doetsch said.
SUBMIT FEEDBACK
Click Below to: