NPS investigative services wraps up two cases in Grand Canyon
Agency convicts one for 2014 Endangered Species Act violation, apprehends fugitive burglary suspect

Originally Published: March 13, 2018 10:33 a.m.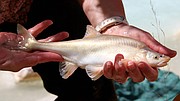 GRAND CANYON, Ariz. — A four-year interagency investigation wrapped up March 2 with a conviction for violating the Endangered Species Act.
The investigation was a joint effort by Grand Canyon National Park, the National Park Service Investigative Services Branch (ISB), the Havasupai Tribe and the US Fish & Wildlife Service (USFWS).
The investigation began in October 2014 when a park employee saw Joao Paulo Ribeiro Ferreira, 33, illegally take and kill two rare humpback chub fish from a pool on the boundary of the Havasupai Reservation and the national park. Humpback chub are indigenous to the Lower Colorado River Basin and are protected under the federal Endangered Species Act (ESA).
Although humpback chub once flourished in the natural conditions of the Colorado River amid its warm turbid waters and seasonally fluctuating flows, the species now faces serious population declines. In 2011, the National Park Service, in cooperation with the Bureau of Reclamation and the USFWS, began a project to translocate wild juvenile humpback chub to Havasu Creek below Beaver Falls in Grand Canyon National Park. These fish were captured from the Little Colorado River, the largest remaining population of humpback chub in the world, and transported by helicopter to a USFWS facility in New Mexico. There they were treated to remove parasites, kept overwinter, and implanted with transponder tags before transport to Havasu Creek for release into a deep pool at the base of Beaver Falls. Park personnel continue to monitor the growth, movement, reproduction and survival rates of the humpback chub.
Investigators located the group of men Ferreira was fishing with and produced evidence demonstrating that he knowingly and intentionally violated the ESA when he took the fish. Ferreira was ordered to pay a fine to the USFWS.
Tip leads to capture of fugitive in Grand Canyon National Park
Additionally, a concerned citizen called in a tip Feb. 9 to report the sighting of a fugitive wanted for burglary in Grand Canyon National Park.
Aaron Yazzie, 24, was taken into custody without incident Feb. 10 and transported to the Coconino County Detention Facility in Flagstaff. Yazzie had previously been convicted of shoplifting, obstruction of justice, criminal trespass, marijuana possession and assault.
ISB agents remind residents and visitors to report any suspicious activity to any NPS employees or the ISB — stay safe and don't attempt to intervene. Anonymous calls or texts can be sent to the ISB tip line at (888) 653-0009 or submitted online at www.nps.gov/isb by clicking "Submit a Tip." Those with social media access can also send a message via Facebook @InvestigativeServicesNPS or Twitter @SpecialAgentNPS. If the situation is an emergency, dial 9-1-1.
SUBMIT FEEDBACK
Click Below to: