Varsity baseball depending on roster depth
Originally Published: March 6, 2018 12:05 p.m.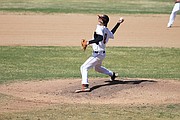 Buried under a four inch layer of snow lies several bases and some brown grass, so the Vikings have spent the first few weeks of the season throwing and catching in the gym.
Cold weather, snow and a lack of practice time on the playing field has been a rough start to Vikings baseball this year.
"We're basically playing basketball with baseballs," said head coach John Hatcher.
Hatcher said the limited field time keeps the team from doing anything other than pitching and hitting in the gym.
"It hurts us because we can't throw long," he said. "It hurts our fielding because we can't do fielding, it hurts our pick-offs because we can't do pickoffs, and it hurts our base throwing because we can't do base throwing."
The Vikings have been able to travel and get some experience in preseason games though.
On Feb. 24, the Vikings travelled to Kingman to face the 3A Kingman High School Bulldogs. Pitcher Frankie Kramer logged five strike-outs, four hits and two runs to lead the team to a 5-2 victory.
Zack Perkins, Carsten Brinkworth and Mario Vazquez had a hit apiece and each had an RBI.
"We won, we didn't play real well but that's to be expected," Hatcher said. "We hadn't even been outside yet."
On Feb. 27, the Vikings headed to Sedona to face the 2A Sedona Red Rock Scorpions.
Joe Zabala pitched five innings for the Vikings with three strikeouts, nine hits and 10 runs. Perkins pitched one inning with two strikeouts in the Vikings 12-5 loss to the Scorpions.
Payce Mortensen, John Bryant, Cesar Santana, Zain Grantham, Brinkworth, Vazquez and Kramer each had a hit. Mortensen, Bryant, Santana and Vazquez each had one RBI. Vazquez and Bryant each had a double.
"Not being outside really showed in the Sedona game," Hatcher said. "We came out and scored in the first inning but when we put pitches up they were hitting hard."
On March 2, the Vikings faced a tough 3A Chino Valley Cougars team. On the road again, the Vikings fell to the Cougars 12-0.
Cougar Abdiel Sanchez had a strong day at the mound ,where he completed 16 strikeouts, just two shy of a school record, against the Vikings.
He allowed one base on balls and two hits during the game.
At the plate, Sanchez went 3 for 5 with two doubles and two RBIs.
For the Vikings, Bryant and Brinkworth were the sole hitters. Kramer pitched five innings with four strikeouts, six hits and seven runs. Perkins pitched one inning with one strikeout, four hits and five runs.
The Vikings are now 1-2 in nonconference play. They head to Needles for the River Valley Tournament March 8-10.
Their first home game is March 24 against Mayer. Varsity is at 2 p.m., and junior varsity is 4 p.m.
SUBMIT FEEDBACK
Click Below to: