Remember when: One year ago, I-40 shooter gripped community
Originally Published: March 6, 2018 11:43 a.m.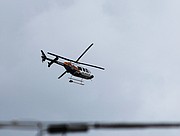 One year ago this month, the community of Williams was put on high alert when an active shooter fleeing law enforcement crashed his vehicle just off of I-40 and took off on foot on the east side of Williams.
Road blocks were set up and law enforcement officers from northern Arizona began a manhunt that lasted several hours. Schools were in lockdown, Bearizona was evacuated and residents were on edge.
Fortunately, a cold front had settled over Williams that week and the suspect, John Freeman, 32, eventually came out his hiding place in a culvert just north of Route 66 near the Arizona Department of Transportation yard without incident.
According to Yavapai County Sheriff's Office (YCSO), the incident began near Ash Fork on I-40 when a YCSO deputy initiated a traffic stop on a sedan for a moving violation. As the deputy approached the vehicle, the driver, later identified as Freeman, sped away. One passenger jumped out of the moving vehicle and was detained by officers.
The sedan continued eastbound on I-40 reaching speeds up to 120 mph. During the pursuit, Freeman fired a handgun out the passenger side window striking a motorhome. Freeman left the freeway at exit 165 and jumped out of the vehicle as the car plunged down an embankment and crashed into a tree.
Freeman ran into the woods and fired at deputies as he climbed over a wire fence and headed into the woods on the outskirts of Williams. Rear seat passenger, 30-year old Gideon Eads, climbed out and also began to run, but was caught by officers.
The popular Bearizona Wildlife Park was evacuated and officers set up containment around Williams
As the incident progressed, leaders at the command post requested additional help from DPS helicopters, search dogs and area SWAT teams. As the search for the subject continued, Nixon ordered a lockdown of local schools.
As evening approached, Freeman eventually came out of his hiding spot and turned himself into deputies.
Freeman was booked on charges including aggravated assault on a peace officer, aggravated assault causing serious injury, drive by shooting, discharging firearm at a structure, several counts of endangerment, vehicle theft, fleeing pursuing law enforcement vehicle, possession of drug paraphernalia and prohibited firearms possession. He remains in-custody at the Camp Verde Detention Center.
Eads was booked for vehicle theft at the Camp Verde Detention Center.
Freeman was found to have a warrant for drug related charges out of Kingman, Arizona. He also had a previous felony conviction from Oregon for vehicle theft. The sedan driven in the incident was stolen out of Kingman.
Yavapai County Superior Court papers reveal that Freeman pleaded guilty to charges in July 2017 and was sentenced to 12.5 years in the Arizona Department of Corrections for the following offenses: discharging a firearm at a structure, drive by shooting, theft of means of transportation, four charges of endangerment, unlawful flight from law enforcement vehicles, criminal damage, misconduct involving weapons and possession of drug paraphernalia.
Eads pleaded guilty in June 2017 to unlawful use of means of transportation for knowingly riding in a stolen vehicle and was sentenced to one year in the Arizona Department of Corrections.
SUBMIT FEEDBACK
Click Below to: