Pac-man and beer: Brewcade opens in Williams
Originally Published: June 26, 2018 8:45 a.m.
Video arcade game lovers and craft beer enthusiasts can now unite at the recently opened Brewcade in Williams.
After Williams business owner and entrepreneur John Peasley expanded his brewery and distillery operation last year, the building space that housed the distillery was left vacant. Over the last six months, the building has been gutted, leveled and remodeled from the ground up and in mid-May Peasley hung new neon on the outside announcing his newest business, Brewcade.
"We had to do something with it," Peasley said. "Instead of using it as a storage building or having it closed down we decided to put an outdoor bar and (having) 1970s and 80s game arcades would be kind of cool and with a bunch of TVs, this is a sports bar as well."
Peasley is a master of creating nostalgia. Cruisers Restaurant, which adjoins the Brewcade, blasts oldies tunes and features live music almost every day of the summer, drawing people in to enjoy classic American fare, ice cream floats and cold beverages. Adding an arcade to the mix just made sense to Peasley.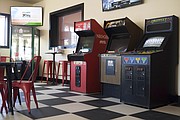 "KISS is pure Americana for me. I believe it's a 1972 — that game. It's an original," he said. "I think for a lot of people who are coming to see even Cruisers — the nostalgia of a 1930s filling station and now you've got the same nostalgia in the back as far as an arcade goes, I think they just go hand in hand."
Peasley picked up most of the arcades online, which include a Terminator game, air hockey table, sit-down Pac Man featuring more than 60 games, Contra and Neo-Geo.
"Part of it was just finding stuff to put in here," he said.
As for the price, he's keeping that nostalgic too, with most arcade games costing .25 cents to play.
In addition to the video arcades, there are several outdoor games for people to enjoy for free, including a foosball table, a life-size Connect Four and Giant Jenga.
"If you like to hang outside and let your kids play while you eat it's the place to do it for sure," he said. "A lot of the kids and the parents, families come sit back here and they like it for that reason."
A full-menu out of Cruisers is also available, in addition to a full-service bar at the Brewcade. He also sells beer-to-go.
Brewcade is open from 3 p.m. to 9 p.m. seven days a week. Peasley said it will be open seasonally — around five or six months of the year.
"It's really about the patio and the open door garage and just hanging out when the town is busy," he said.
"People are showing up and checking it out. People with kids are loving this back here," he added.
Brewing at the Brewcade
In addition to vintage arcade, Peasley plans to open a smaller brewery at the back of the building, where he will brew beers for Cruisers and the Brewcade.
"We'll put a brewery in the back," he said. "There will be a window looking in and you'll have a glass door looking in as well. I'm hoping that this fall or next spring I'll put in the brewery."
He also plans to manufacture soda.
"So making sodas — root beers, colas and orange sodas from scratch in the back, just for this facility," he said.
He hopes to bring soda manufacturing online by next year.
Grand Canyon Brewery and Distillery updates
Following their move from the Brewcade location on Third Street to their new location on Seventh Street, Grand Canyon Brewery opened a restaurant, gift shop, distillery and vacation rental. Next, Peasley plans to expand again to include a barrel house for the distillery. Peasley said he also recently purchased a new 500 gallon pot still for the distillery.
"It just tripled the size of the distillery," he said.
Grand Canyon Distillery is one of 26 distilleries in Arizona. The distillery currently produces vodka, prickly pear vodka, rum, gin and an un-aged corn whiskey.
According to Peasley, the vodka and prickly pear vodka were recently picked up for distribution in some Wal-Marts. On April 15, Grand Canyon Distillery took home a gold medal for their gin and a bronze for their rum at the Ninth annual New York International Spirits Competition in New York City. There were more than 600 submissions, from 29 countries at the competition.
"That's a pretty big one and that was the first one we've entered," he said.
More information about Grand Canyon Brewery and Distillery is available at www.grandcanyonbrewery.com.
SUBMIT FEEDBACK
Click Below to:
More like this story