Community giving: Donations pour in for Williams Police K-9
Originally Published: June 26, 2018 11:10 a.m.
Through generous donations from the local community and throughout Arizona, the Williams Police Department is one step closer to having a K-9 partner.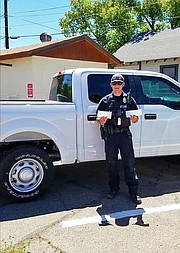 With an anonymous $25,000 donation, WPD officer Tyler Forbes, who is spearheading the effort, said the cost of a specialized patrol truck has been covered, and through the generosity of K-9 Defense, a Belgian Malinois puppy has been donated to the department.
"I'm very grateful and appreciative to everyone that's donated and helping me to achieve this," Forbes said.
Forbes said he is especially thankful for the support of Grand Canyon Brewery and KAFF Country radio.
"Because of his GoFundMe account, a lot of people are bringing checks to the police department," Forbes said.
John Peasley, owner of Grand Canyon Brewery, got behind the project when Forbes asked for help.
"Originally Tyler was wanting to do a canine program and part of the discussion that came out of it was how to get funding for it," he said. "Going through the city council and the police department takes time and so we were like, what if we put a fundraiser together and raised all the money for the dog?"
Peasley told Forbes that it could take them up to two years to raise the funding.
"Essentially, I just started a fundraiser," he said. "There's a lot of great people in our community and in the Flagstaff community that came together and look how fast we knocked it out to get the truck donated, to get the canine donated and all the equipment for the interior."
Peasley and Forbes said numerous people have donated or put time into the project including the Shadows Foundation, Findlay Toyota, Babbitt Ford, Colors of the West, Kicks on Route 66, KAFF Country and others.
The Grand Canyon Brewery also raised money through a raffle for an eight-day Grand Canyon raft trip. He said he hopes to bring in about $7,000 with it.
Peasley said the GoFundMe account didn't raise a lot, but word of mouth brought many people to donate at the police department.
Peasley said the K-9 Defense was aware that money had been raised for the project but offered to donate the dog to the department anyway.
"That's a $20,000 donation," Peasley said. "That dog is coming fully trained for handler protection and then drug detection. To have all that training done for free was huge."
The puppy, which Forbes named Nitro, is still going through training at K-9 defense in Phoenix.
"Right now he's about nine months old," Forbes said. "He's getting trained and I'll get him full-time in September."
Forbes said he visits the puppy when he has a chance and when he picks-up the dog in September they will head straight to an 8-week intensive dog handler course in Phoenix.
"Everything the dog can do he (the handler) needs to train me on so I know what I'm doing," Forbes said.
Forbes said this will include building and area searches, and narcotics detection in vehicles.
Forbes estimated the K-9 program would cost the department about $65,000 when he began the effort, which included the dog, a specially equipped vehicle, training, equipment and food.
"Total dollar value currently is right around $55,000," Peasley said. "When we finish we're looking at a total right around $75,000 for the whole program. We'll see if we can get there — we're getting there as fast as we can."
Peasley said about another $6,500 is still needed to cover the cost of the dog handler training course.
Hilton Hotels has donated a room for Forbes for the 8-weeks of training in Phoenix, he said.
Peasley said Grand Canyon Brewery plans to host a golf fundraiser at Elephant Rocks Golf Course in September.
"Some people don't believe in a K-9 program or don't back PD or don't back the idea that they should pitch into a city fund that's already getting taxpayer money, so I've had a lot of naysayers in town," he said. "At the end of the day it was a hard sell."
Peasley said he believes having a K-9 program is safer for officers and safer for the community.
"I do believe there's huge benefits to having a dog. I think a dog is known as a man's best friend and I believe a handler's best friend as well," he said. "If you look at the military aspect of dogs, they've been saving soldiers since WWI and WWII and Vietnam and they currently do in explosive detection and in airports — safety is a huge thing."
Peasley also believes that having a police K-9 helps prevent crime in communities and is a great tool for officers to utilize.
"I think it makes for a safer community and also for handler protection … why go in a building when you don't know what's going to happen when a dog is willing to make that ultimate sacrifice," he said. "That dog is willing to give everything and it's a lot better than a human life in my eyes."
Forbes said there are still a few tasks to be completed before the dog can come to Williams. He said the first is getting the patrol truck outfitted with the required law enforcement equipment including the vehicle graphics. The vehicle also needs to have a specialized dog kennel installed.
Forbes said the kennel has a device called the Ace Canine Hot N' Pop Pro, which monitors the temperature inside the vehicle to protect the dog.
The device sends status information, warnings and alerts from the heat alarm directly to a smartphone or other device.
"It's a safety issue, they won't give us the dog until we have the cage and heat sensors in place," said WPD Lieutenant Daryl Hixson.
Williams-Grand Canyon News editor Loretta Yerian contributed to this report
SUBMIT FEEDBACK
Click Below to: