Resident hailed as hero for halting grass fire in Parks
Originally Published: June 19, 2018 10:46 a.m.
A 74-year-old Parks resident is being hailed as a hero by his neighbors after singlehandedly putting out a grass fire that threatened homes.
On the afternoon of June 4, Bob Hausman, known locally as "Backo Bob", came upon a grass fire along Spring Valley Road in Parks as he was driving his tractor home. Hausman found another Park's resident, Jeff Jeffers, attempting to put the fire out.
"I just had a shovel," Jeffers said. "And I was losing ground to the fire."
Hausman jumped into the situation with his Case 580 bucket loader and began creating a fire line. Jeffers credits Hausman with preventing the spread of the fire.
"If Bob hadn't showed up when he did, it would have gotten way out of control," Jeffers said. "What I can tell you is that the fire had almost reached the tree tops. But Bob prevented it. If it weren't for Bob, they'd be up there fighting this fire on Sitgreaves to this day."
Bonnie Jackson and her daughter, Jerri Rustad, were driving up Spring Valley Road when they saw smoke near milepost three. As they got closer, they could see the flames on the edge of the road near E. Thundering Pines Ranch Road. The fire appeared to have started at the edge of Spring Valley Road and was spreading north and west. Rustad called 911, while her husband Gary Rustad, a disabled veteran, headed to the scene.
When Gary arrived on the scene, he found Hausman and Jeffers battling the blaze that was beginning to top out in the trees.
"I loaded up fire extinguishers and a rake and got back down there within a minute or two," Gary said. "I must have been a real sight to see. There I am with a crutch in one hand and a rake in the other. Even if that's all I could do, I just had to keep trying to help Bob."
Gary said the three residents battled the blaze together, although Hausman was able to make the most headway with his loader.
"There was only three of us fighting this fire," Rustad said. "And I was really there only to support Bob. He was in and around the flames and working as fast as he could to c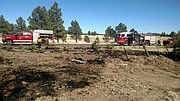 ontain the fire. Suddenly, the fire grew much larger and started to climb the trees. Bob picked up dirt and got the loader as high as he could, then dumped the dirt over the burning limbs of pine trees and pretty much got them out by doing that."
Hausman said he was concerned about the wind gusts which caused the fire to jump 30 feet in just a few seconds.
"I just started cutting fire lines and scooping up dirt, throwing it on the fire as best I could," Bob said. "Then it started to get hotter and hotter inside my loader's cab. The heat was so intense. It was coming right through the glass almost like the glass wasn't even there."
Hausman said Ponderosa Fire Department arrived on the scene within 15-20 minutes of his initial attack. He said he continued to knock down the flames and surround the fire with dirt fire breaks.
"If I hadn't been driving by with my loader," Bob reflected, "and with the wind howling the way it was, we would have had a completely out of control fire that would have burned 100 acres by the time the fire department got there. I was just lucky to be driving by right when it started. I really believe homes would have been lost and the fire would have rapidly expanded to Mt. Sitgreaves and to Government Hill."
Ponderosa Fire Department reported no injuries and had not found an official cause of the fire, however, residents are concerned about cigarette butts they have found along Spring Valley Road.
"Just look at all these. Marlboro Lights. They're just everywhere," said Val Williams, the property owner where the fire occurred.
The Williams family was on vacation during the fire but heard about the incident when they returned June 12. They said they were grateful for the response from their neighbors, especially of the work Hausman did.
"Bob has been a good friend from the moment we met him," Williams said. "He truly is a kind soul, with a heart of gold. He has always helped the community of Parks. We are so grateful for his quick thinking and action. If it weren't for Bob, this fire would have been a disaster, not only for us, but our neighbors, as well. We are thankful he was not injured, as he was right in the heart of it. Bob, you are awesome."
Residents of Parks hope to honor Hausman for his heroic actions at a later date.
Information provided by Joe Amadeo.
More like this story
SUBMIT FEEDBACK
Click Below to: