Originally Published: June 19, 2018 10:37 a.m.
WILLIAMS, Ariz. — Six North American River otters have been enjoying a 'wotter slide' at their new enclosure at Bearizona Wildlife Park in Williams.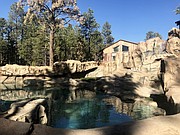 Otter Mountain opened May 24 and features a new otter pool that holds approximately 45,000 gallons of water. The pool is complete with two underwater viewing windows and a 15-foot-high waterfall that includes a 'wotter slide.' As part of the exhibit, Bearizona's animal staff allows select guests to feed the otters about once a day. It also features a fish cam that captures live video of otters getting fed underwater, as the staff shoots fish to them through a submerged tube.
The exhibit has been under construction for a while — helping to ensure the exhibit's design fits the needs of the animals.
"There's a lot of things that go into making an exhibit. It's more than just getting some cool animals and putting them in a box, essentially," said Bearizona Animal Staff Director Dave O'Connell. "You have to build something that mimics their natural environment, you want to build something that holds animals in, that allows them to show all the natural behaviors they would show in the wild."
Making sure animals are as close to what they encounter in their natural environment has always been a priority for Bearizona.
"We did a lot of research looking into what exact things an otter needs to survive and what they like," O' Connell said.
Some things were easy for designers, like providing a swimming pool and grass to play on. Bearizona ended up using green turf in the exhibit, which makes for easy clean up and, according to O'Connell, the otters love to play on.
"We did a lot of work making sure everything was just right before we put it all together," he added.
Once the enclosure was ready, one of Bearizona's young otters, Felicia, was brought over to test the enclosure.
"We brought her over, let her swim around in the pool and just test everything and we knew it was good for all the otters so after she tested it we brought the other five over," he said.
Of the six otters in the enclosure, only two are related — Felicia and Juan, who are half siblings. Felicia and Juan are from Bartlett Lake near Phoenix. Two of the other otters are rescue otters from Louisiana and two others are from a facility in Las Vegas.
"What's really cool is they've all gone together really well," O'Connell said.
While otters are family oriented, sometimes they don't always like to be together, O'Connell said.

In the former otter exhibit, which now houses raccoons, Bearizona had four otters. Since then, Bearizona has added more adults and they now have three baby otters who will eventually be integrated into the exhibit.
"Once they get to about a year in age we'll introduce them to these otters, so we'll have nine altogether," O'Connell said.
The new enclosure is located near the Bearizona gift shop and Canyonlands Restaurant inside the park.
"The owner, Sean (Casey), when we were talking about where to put it he said, 'I want to have a big sexy exhibit in the back for jaguars and I want to have another one out front, on this side of the gift shop opposite the jaguars. We can't have two sexy exhibits in the same spot,'" O'Connell said.
The enclosure also follows Bearizona's rocky, forest theme and using recycled metals for the foundations.
"There's actually two half ton trucks tipped up on their side and in the middle, where the water is coming off the top is actually a dump truck with the bucket all the way up," O'Connell said.
Otter feedings take place daily at Bearizona at 11:40 a.m. at Otter Mountain.
Other Bearizona events
Bearizona After Dark VIP event runs June 23, July 21 and August 28 and has limited availability, according to Bearizona. The event runs from 6 p.m. to 9 p.m and is open to adults 21 and older. It costs $60 per person which includes two drink tickets, hors d'oeuvres, sunset wild ride bus tour, animal encounters and a guided flashlight tour. More information is available from Bearizona at www.bearizona.com.