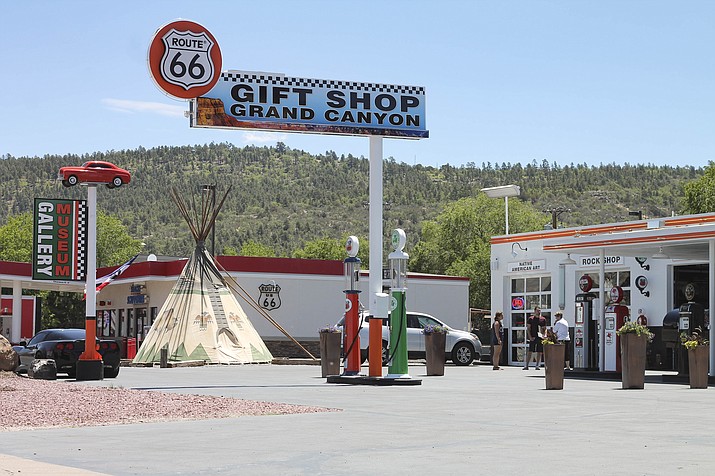 Originally Published: June 5, 2018 1:30 p.m.
WILLIAMS, Ariz. — After months of restoration and deliberation, Mike Cowen and Bryant McGee opened Route 66 Gift Shop Grand Canyon, a gift shop that draws both locals and tourists to the west end of Williams.
Initially Cowen and McGee planned to lease the property and let the lessee put in a new business; however, Cowen said it was always in the back of his mind to turn the property into a gift shop if the shop wasn't leased.

"We wanted something that was going to be a draw for Williams and a draw for this end of town and for the property itself," Cowen said. "There was nothing negative about anybody who wanted to lease it, we had plenty of people who wanted (it) but we wanted something that would be different and that would be a draw to Williams and our business next door — something that would complement it."

On May 5, after spending several months renovating the building and replacing the electric and plumbing systems, Cowen and McGee opened the gift shop. During the remodel, the inside went through complete renovations — the wood panels in the service station's garage doors were replaced with glass, the flooring was replaced and new paint was put on the aging building, helping to restore the service station to its original splendor.
Outside, the gift shop now displays replicas of gas pumps from the 1920s, 30s and later.
"It kind of depicts the whole stage of gas stations," Cowen said.
Another attraction is a full-size teepee, which was designed by Cowen's wife and brought to Arizona from Oregon.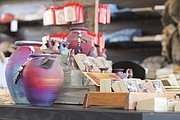 Since they've opened; Cowen said they've had a steady flow of traffic and customers.
"It's gone nuts. The people who stop here to take pictures and go in the store is unbelievable," he said.
More than just your average gift shop, the store offers a selection of products for locals to enjoy as well as souvenirs for tourists.

Cowen said many customers are locals.
"There's a lot of locals that have been shopping because we have really tried to bring (unique items) in…. some of the items you have to put in because that's what sells," he said.
Cowen said he had an idea of what would sell well to tourists based on what he stocks in his gas station — located next door, the rest of the inventory in the store was based on what he thought locals might enjoy.
"We tried to find unique stuff that other people don't sell in town and it is really working, especially the local business. We like the local business," he said. "The tourists, they'll come but the locals are what I like."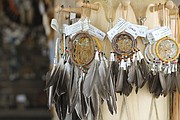 Some things for sale at the gift shop include metal water fountains, welded benches created by 16-year-old entrepreneur Anthony Donno and made from vintage truck parts, ducks carved from 100-year-old fence posts from Wyoming and Colorado, art by Native artists, petrified wood, cutting boards with turquoise inlay and precious stones from Peru and Brazil.
Other projects
In addition to restoring and opening the gift shop, Cowen is working to complete restorations to the building and property directly across the street from the store. Cowen said he has not leased the property and has not decided what he will put in the building if it is not leased.
"I'm just putting a face lift on it," he said. "Putting utilities in and just doing the same thing as this. If somebody comes in and leases it that would be better but if not I'll have to do something myself."
More like this story