Camp Civitan in Williams celebrates 50 years
Originally Published: July 31, 2018 9:37 a.m.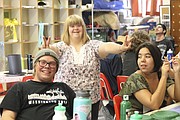 WILLIAMS, Ariz. — Summer camp is an important time in the development of every individual. It's a time of growth and meeting new people and most importantly — good old fashioned fun. Camp Civitan north of Williams, has several goals and one of those is to provide individuals with developmental disabilities a summer camp experience.
This year marks 50 years Camp Civitan has been a part of the Williams community.
Established in 1968 by a group of dedicated volunteers for individuals with developmental disabilities, parents and volunteers were driven by the belief that everyone deserves the opportunity to experience the unique joy of summer camp — regardless of their abilities. Since then, Camp Civitan has created one of the first year-round camping experiences in Arizona with extracurricular activities for the disabled, according to the organization's website.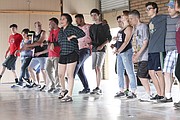 "Many of our campers have been coming for more than 20 years and they love it, they wouldn't miss it," said Dawn Trapp, Chief Executive Officer at Camp Civitan.
Jeremiah Robinson of Glendale, Arizona has returned to the camp for the last three years.
"I get to go swimming, do games and go fishing — it's a lot of fun," he said. "I like it here."
The camp was started by the Civitan Club, which Trapp said originally met in Williams but has now disbanded.
"We don't really have any real part of that anymore, it's just our name," she said.
"The property was actually donated and the development (started) way back then," she said. "Fast forward and I have been coming here and doing projects here — this is my 32nd year. I wasn't the director then, I would come on work projects and help."
The camp was started by donations — everything from the property, furniture and building materials.
"Many of our campers have been coming for more than 20 years and they love it, they wouldn't miss it."
— Dawn Trapp, CEO at Camp Civitan
Camp Civitan is a 501c3 non-profit and continues to expand and grow each year. It is a part of Civitan Foundation, Inc., a non-profit organization located in Phoenix that provides statewide high-quality programs focusing on education, nutrition and health, life skills, socialization, job training and employment for people with disabilities.
Campers enjoy a variety of enriching and fun experiences that promote positive self-esteem, teamwork, socialization and healthy activities, according to civitanfoundation.org.
Campers can expect to enjoy both indoor and outdoor activities, including outings to Bearizona, the Williams Aquatic Center and fishing excursions to local lakes. They also rotate between art, sporting and theater stations throughout the day.
The camp itself sits on 15-acres of wheelchair accessible property just north of Williams and is open 24/7 for 10 weeks of the summer. The remainder of the year the camp is open one weekend per month. It also has a full-time day program that operates year-round.
"We have around eight to nine Williams' residents who come out on a daily basis from Monday through Friday," Trapp said.
The camp can house around 120 people at capacity and has a 1:1 ratio; one staff to one camper.
Campers arrive from around the state and range from five to 75 years old.

"We do break up the camps and have children's camps and adult camps so they're not all-together. It's one of the requirements we have to do," Trapp said.
"That's the same with the disabilities. Our disabilities are all kinds of different disabilities… some camps only do cerebral palsy, we do everything. So it's from very mild to very severe. We just don't accept medically fragile because of where we're located — what's not here and not close," she added.
Overseeing day-to-day operations during the summer is a facilities manager, camp director and seasonal staff.
"Another thing we do is we have a youth volunteer program," Trapp said. "So we open up our youth program from 13 to 17 and we'll take about 20 volunteers a week."
Volunteers help in the kitchen and with games and activities.
"The most wonderful thing about that is it's truly been a grow our own," Trapp said. "A good share of these youth have come back and been our full-time staff in the summer."
Volunteers are mostly from northern Arizona. Paid staff must be 18 years or older.
Davin Lile has been a staff member at Camp Civitan for three years. From Palm Springs, California, Lile attends NAU and will graduate next year with a degree in marketing. Lile said his first year was challenging but now that he is about to graduate he said it will be hard not to return each summer.
"My first year, it really took a toll on me. I was thinking about not coming back, but I started to meet the campers and get to know them better and I fell in love with providing for them and getting to know them more," he said. "I come back every year for the campers."

Lile plans to work one more summer following graduation.
"My greatest piece of advice for anyone who wants to work here is you can't let all the strenuous work overcome what you're doing for the individuals," he said. "It's really tough and not meant for a lot of people but if you can get past that and see the beauty in this population and the work you're doing you'll love it."
Funding
Camp Civitan receives funding through a contract with the state of Arizona. The camp is also supported through grants and fundraising. Civitan on 66, a Western boutique and resale store in downtown Williams also brings in some funding for the camp.
"It really was opened for fundraising, to help support us and then we also are having group supported employment opportunities there as well for the local individuals," Trapp said about Civitan on 66.
The Civitan Foundation provides services throughout the Phoenix metro area, Williams and Maricopa.
SUBMIT FEEDBACK
Click Below to:
More like this story