Originally Published: July 26, 2018 4:31 p.m.
WILLIAMS, Ariz. - Local band 'What Separates Us' performed prior to the annual Summer Rec Talent Show July 19 in Williams.
Photo Gallery
Participants Shine At Summer Rec Talent Show 2018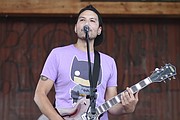 Children participating in the Summer Rec program were able to perform at the talent show. Participants included: Alexis Porr and Evette Paredes singing 'One Call Away'. Ella Oszust and Kaia Barrett - who won first place with their rendition of 'How Far I'll Go' featured in the hit movie Moana, Chloe Silverstein and Autumn McDaniel performing 'Believer' by Imagine Dragons, Alina Velaquez and Destiny Horrall singing Friends by Marshmello and Anne Marie. Danika Howe singing and performing 'Roar' by Katy Perry, Michael Scott performing 'You Can Count on Me' by Bruno Mars, Jabez Zabala - who took second place with his version of '7 Years' by Lukas Graham and Allison Hamby who awed the crowd with a magic trick, among others.