Sheriff's Office responds to multiple rescues during monsoons
Originally Published: July 24, 2018 10:55 a.m.
COCONINO COUNTY, Ariz. — Over the past week, the Coconino County Sheriff's Search and Rescue Unit (CCSAR) responded to multiple incidents in which people were caught unprepared by weather events in northern Arizona.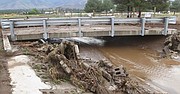 At approxiimately 10:20 a.m. July 18, CCSAR, Guardian Medical Transport and Summit Fire District responded to a report of an injury on the Humphrey's Peak Trail. Witnesses said a tree had fallen on a trail worker. During the response, severe weather, hampered rescuers.
Personnel from the Arizona Snowbowl assisted emergency responders in locating and transporting the patient to the parking lot and waiting ambulance.
As the rescue on Humphrey's Trail was wrapping up, CCSAR was notified of a hiking party including two adults, two children and a dog who were stranded by severe weather in the Viet Springs area. Rescuers assisted them party back to their vehicle. There were no injuries reported.
Around noon that same day, CCSAR was notified of a Personal Locator Beacon (PLB) emergency activation in Paria Canyon. The area had been under a flash flood warning the evening before. The PLB was registered to a 65-year-old female from Australia. It was determined through an interview with the hiker's emergency contact that she was hiking the length of Paria Canyon and planned to exit at Lee's Ferry on July 20.
An Arizona Department of Public Safety (DPS) Air Rescue helicopter was requested which located the victim at 2:12 p.m.. The hiker indicated that she had become stuck in quicksand for approximately 30 minutes and once free was swept downstream a short distance due to a flash flood the evening before.  She was unable to hike to her camp because of the high water. The next morning, she was able to hike back to her camp but was exhausted, out of drinking water and mildly hypothermic. At that point she activated her PLB to signal for rescue. DPS Air Rescue flew the hiker to Lee's Ferry where she had staged a vehicle.
On July 19 at 8 a.m. CCSAR provided assistance to Coconino County Public Works and the United Way to conduct damage assessments in areas impacted by the flood in Timberline.
Later that day, CCSAR responded to a report of a hiker stranded by high flood waters in the area of Pomeroy Tanks along the Sycamore Rim Trail system. Deputies attempted to make access to the area to provide assistance. However, many of the roads in the area were impassable from heavy rain and high water in drainages. A Search and Rescue vehicle successfully accessed a location near the hiker. From that location, a search and rescue deputy and a patrol deputy were able to hike into the location and escort the stranded hiker out safely. They arrived back at the rescue vehicle at approximately 8:30 p.m. The hiker, an adult male from Scottsdale, was given a ride back to his vehicle.
While the rescue near Pomeroy Tanks was wrapping up, CCSAR responded to two stranded motorists near the Sawmill Hills north of Lake Mary Road.
The Search and Rescue unit would like to remind those who recreate in the outdoors to pay attention to weather forecasts and be prepared for changing conditions.
Information provided by Coconino County Sheriff's Office.
SUBMIT FEEDBACK
Click Below to:
More like this story