Food cart frenzy: Bill eases restrictions for mobile vendors
Originally Published: July 24, 2018 10:42 a.m.
WILLIAMS, Ariz. — The new red, white and blue food cart isn't hard to find at the east end of Route 66, not only because it's bright, but also because of the tangy smell of roasted hot dogs emanating from within. Just down the road from the hot dog cart, people can now pick up a tasty treat of shaved ice as they walk among the shops in the downtown area.
These mobile food vendor carts are new to Williams and have opened up on the heels of new legislation that Gov. Doug Ducey signed May 14.
Pushed by state legislator, Rep. Kevin Payne (R-Peoria), the new statute loosens restrictions for mobile food vendors across the state.
H.B. 2371 limits municipalities on what types of regulations they may impose on food trucks, trailers or cart operations.
The new statute reduces restrictions placed of mobile food vendors such as limiting where a food vendor can park and what business hours they can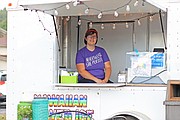 operate. It prohibits cities from imposing special permits that aren't required of other vendors.
Cities are still allowed to regulate the impact on vehicular traffic and parking laws, however.
According to Payne, himself an owner of a mobile food truck, mobile food vendors often face a barrage of different regulations if they travel throughout the state.
"I don't normally applaud additional licensing and regulations, but in the case of food trucks, a statewide license is better than the hodgepodge of local licenses and regulations that vendors are subject to now," Payne said in a press release.
According to Chief Building Inspector Tim Pettit, the city of Williams has an ordinance for mobile food vendors that they are now revising.
"Our attorney is looking into our ordinance right now," Pettit said. "It was really confusing when the state did this and just threw this out there."
Pettit said the city's current ordinance allows vendors to obtain a temporary business license that is only good for seven days and can be renewed four times per year.
"They are great for (sales) tax dollars, but they aren't invested in the community," Pettit said. "They don't pay property taxes, which go to our hospital district, fire district and such."
Pettit said even with the new statute, mobile food vendors are still limited on where they can set up in Williams. Any carts or trailers must stay attached to a vehicle during operation, and the vendor must park in a legal parking spot if on public land.
"It's hard to find a legal parking spot in Williams," Pettit said. "They can't block traffic, they can't block sidewalks, its restrictive."
Pettit said the new statute also has restrictions on how close a vendor can be to a residential area.
"That will prohibit a lot of these from Route 66," he said. "Our residential district is so close to our commercial that footage will affect them in Williams."
Pettit said it would be difficult for a cart to set up near an established restaurant in Williams.
"I've been looking at that scenario," he said. "The downtown has diagonal parking. Railroad Avenue might have something."
Pettit said the city has issued recently issues business licenses to the hot dog cart and shaved ice cart vendors as they develop a new ordinance.
"Right now we're seeing what would affect us," he said. "We are seeing what problems we could run into and we hope to take care of it with a new ordinance."
Hot Dogs on the run
Hot dogs, sausages, nachos. These are the items Carol DiFiore is selling at her new hot dog business, Joe's Route 66 Hot Dogs, located in the Mustang gas station parking lot on East Route 66.

DiFiore and her father have been working with the city for over a year to establish their food vendor business in Williams. DiFiore said it had been difficult to get approval for the cart.
"My dad and I had a long battle with the city and fought it really hard," she said.
DiFiore is a 2017 graduate of Williams High School. She said she always dreamed of opening her own business and wanted to use her skills from her culinary classes at the school to open her food cart business.
"I learned a lot of business skills and cooking skills while at high school," DiFiore said.
DiFiore said she is using the cart to earn enough money to attend college.
"I wanted to learn life skills and business skills and then go to college," she said. "I want to use this to help pay for college so I won't have to rely on others to do it for me. I can do it myself."
DiFiore said she spent several months acquiring the paperwork and permits for her business. These included her TPT (Arizona Transaction Privilege Tax) license, a food handler's card, a food manager's card and an inspection by the Coconino County Health inspector.
She said she pays a small rent fee to set up in the parking lot at the Mustang gas station.

"I think it has helped business at the gas station," DiFiore said.
DiFiore said she enjoys working at the food cart and meets new people every day.
"I learn a lot of things about everybody," she said. "I enjoy listening to their stories, I've met people from places like Australia and Germany."
Hawaiian Shaved Ice
Debbie Cole said she was looking for a side hustle when she acquired her mobile food vendor cart. Cole is also the director of accounting for Kennelly Family Concepts in Williams.
"My boss asked me 'What are you doing for yourself?', she said.
Cole asked herself what she would do if she had all the money in the world.
"I realized I would provide jobs," she said. "I would provide people with opportunities to work."
Cole said she began working toward this goal with the simple step of purchasing a mobile food cart.
"My heart is to provide jobs so people can support themselves," she said. "I knew that one place would not fill that need for everybody, but I could
More like this story
SUBMIT FEEDBACK
Click Below to: