Torrez family to be honored for community ministry
Originally Published: July 3, 2018 10:39 a.m.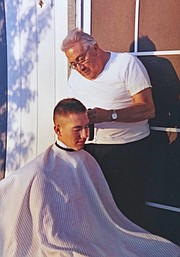 To many, he's the compassionate man who listened to their stories and offered words of wisdom as he cut their hair; to others, he's the one who spent every weekend sharing his love of the Lord with prison inmates.
IF YOU GO
WHAT: Celebration for the Torrez family
WHEN: 1 p.m. Sunday, July 8
WHERE: 134 E. Hancock Avenue, Williams
On July Fourth, Tony Torrez will celebrate his 83rd birthday, and four days later friends and family are hosting a celebration to honor the work he and his wife, Mary Ellen, have done for the community.
Their story in Williams began in 1973 following a long search for a place to call home.
Originally from the Miami-Globe area, the Torrez family has deep roots in Arizona.
Mary Ellen's family came to Arizona to escape the ongoing struggles of the Mexican Revolution.
"My mother and her siblings used to get on the roofs of their houses and watch the fighting," she said.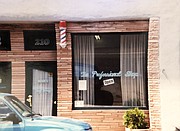 Mary Ellen's mother was just 14 years old when she met her father, who brought her to the Pinal Mountains near Globe.
"Every winter she had to register, she wore the same dress every time to get her green card," she said. "I remember we would go to the post office every January."
Tony's father was born in New Mexico and his mother was from Mexico.
"They brought her over in a covered wagon to settle in New Mexico," he said.
Mary Ellen grew up in the Globe area and Tony's family settled in Miami. It wasn't until a near-disastrous prom night that they met.
"My prom date cancelled because of a death in his family, so my girlfriend had a friend who knew someone that could take me," she said.
That replacement date ended up being Tony.
"He showed up and was tall, dark and handsome," she said. "It was the story of a whole new life and it has been beautiful."
Mary Ellen and Tony eventually left the Miami-Globe area for California to search for better jobs.
"In 1958 there were no jobs in Arizona," Tony said. "We went to California so I could go to barber school."
Tony worked for an aircraft company during the day and took barber classes at night, always with the intent to return to Arizona.
"The day we moved to California we said we are moving back to Arizona the first chance we get," Mary Ellen said.
About 16 years later, with five children in tow, the Torrez family did return to Arizona.
"We went looking for a place up north, we didn't want to live in Tucson or Phoenix," Mary Ellen said. "We stopped in Flagstaff but I didn't like it. We continued to Williams and I remember the highway being full of trees, the tall pines, it was just gorgeous."
The family was excited to see green lawns and flowers, and the schools and churches reminded them of Globe.
For two years, Tony worked in construction, specifically concrete work. He spent much of his time helping with the new elementary school being built on 7th Street.
"At that time the unions were really strong," Tony said. "I had to be in the state two years before I could apply for my license."
Once the two years were up, Tony opened up the Professional Shop on Route 66 and began his 33-year career of cutting hair in Williams.
It was during the first few years of his business when he and Mary Ellen were hit with another idea.
"In 1976 we had an experience with the Lord," Mary Ellen said. "That was our transition from being Catholic all of our lives to being Bible believers."
Tony went on to become a Pentecostal preacher and began a volunteer ministry at the Arizona State Prison Complex in Winslow.
"When I first started I had as many as 192 inmates," Tony said.
The prison went through some reform when a new warden arrived from Florence.
"At that time there had been a lot of riots in Florence," Tony said. "Next time we went (to Winslow) they split the prisoners up in the yards and asked if I could come over two days."
Tony, Mary Ellen and other volunteers began ministering at the prison for groups of 35 inmates, which amounted to seven services each weekend.
Their ministry continued at the prison for 24 years.
"It was a real neat ministry," Tony said. "I wish I could continue doing it, but because of my health I had to quit."
Mary Ellen said she was surprised at the number of inmates who would attend the services provided by the volunteers.
"Word got around, they would hear and want to be in the classes," she said. "It was good news. They think of themselves as throwaway people."
Many of the inmates have lost their family and the love the felt from complete stranger gave them the freedom to express and share their lives, said Mary Ellen.
"The word would spread among the inmates and that's why we had so many services," she said. "We loved on them and listened and gave them the Good News of salvation."
In addition to the ministry in Winslow, Mary Ellen and Tony worked with Sunshine Mission in Flagstaff and mission work in Mexico.
Several of the inmates in Winslow went on to open and orphanage and rehabilitation centers in Mexico when they were released from prison, Tony said.
"Every September I put an ad in the Williams Newspaper for bibles, toys, clothing and food and I would get anywhere from 15-20 bags to take to them for Christmas," Tony said.
Tony said he did keep in contact with some of the inmates upon their release, despite the prison discouraging the practice.
"We went to yards with child molesters, snitches and ones with a prize on their heads and some of them felt comfortable with use, some had a real change of heart," he said.
Tony said he was encouraged to see the change in some of the inmate's lives.
"The Word of God says we are like the sower, we sow seeds," he said. "Some falls on good ground, some falls on bad ground. Some change, some don't."
Mary Ellen and Tony were asked to continue their ministry to other prisons in Arizona, but found the travel and lack of volunteers made it difficult.
"For 18 months Mary Ellen met with 57 men for a Bible Study," Tony said. "But that was too much traveling to go to the 12 other prisons in the state. I like it from here to Winslow, that's the distance we could travel."
Tony and Mary Ellen continue to live in Williams and have found memories of the friends they made through the barber shop.
"This was a dream come true, we always wanted to live under the pines," Mary Ellen said. "We have been very blessed here."
Friends and family are hosting a party July 8th to celebrate Tony's 83rd birthday and to honor the Torrez family for their dedication to the ministry and the Williams community. The family invites every to come to the event which begins at 1 p.m. at 134 E. Hancock Avenue in Williams.
More like this story
SUBMIT FEEDBACK
Click Below to: