Spreading the news: Williams groups connect at annual Event Huddle
Originally Published: January 30, 2018 12:22 p.m.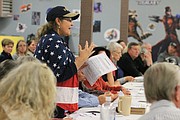 A large contingent of Williams community members gathered Jan. 22 for the fourth annual Event Huddle to share ideas and collaborate on future events and activities for 2018.
This year's event was held at the Williams Recreation Center, where the 65 attendees discussed how they could work together to coordinate events and help each other.
Participants from nonprofit groups such as the Lions Club, Friends of the Aquatic Center, Friends of the NRA, Williams VFW and Williams Little League joined with businesses and churches such as Old Trails True Value and the Methodist Church to discuss their missions and plans for the year.
Organizer Kerry-Lynn Moede said the idea for the Event Huddle came to her when she was on the board of the now defunct Williams Chamber of Commerce. She said she listened to many people speak of their goals and plans and realized some were duplicating work.
"Some were missing opportunities, and many were falling short," she said.
At Moede's first Event Huddle in 2013, 22 people attended. This year over 65 people met to share ideas.
Moede said since the town is small, there are limited resources. She said by coordinating projects and efforts, the events and projects will be more successful.
Moede said the Event Huddle is not sponsored by any organization, but is a time for all the groups in Williams to come together and help each other.
She said she has seen positive results from prior Event Huddles.
"They have created great synergy," she said. "At the first event Kim Cureton from Old Trails and Bonnie Dent hooked up for holding art classes at the store. Four years later they are still doing it."
Moede said that through the Event Huddles, networking has occurred more regularly. She said more people are attending events because the word is spreading more quickly.
"The networking alone for things like staff needs, equipment lending, advertising co-ops, tax issues, event combination and even cookie bakers have been helpful to many," she said.
Moede said because Williams is a small town, the groups are using the same volunteer base and the same fund base to accomplish their goals. She said if groups combine forces, they may find more interest and success.
Moede said she received a lot of positive responses following the event.
"Williams has always been a tight community," Moede said. "I had nothing to do with creating that, however, by constantly pushing, communicating and facilitating, I have seen great strides between groups."
She said the communication has helped many new residents easily find ways to plug into the groups and events in Williams.
Moede said she is hoping people will take the information they heard at the Event Huddle and put it into action. She said she also has plans for future growth for the Event Huddles and hopes to see more break-out sessions for brainstorming. She would like to see a youth version with children of all ages.
SUBMIT FEEDBACK
Click Below to: