Northern Arizona travel: is there an app for that?
Originally Published: January 30, 2018 11:52 a.m.
Instead of bringing atlases and guide books on vacation, many people today rely heavily on their smartphones to access information when they travel.
With the numerous informative websites, and free or low cost apps available today, camping, restaurants, food, road and weather information for northern Arizona and the Williams area can be right at your fingertips.
Exploring Kaibab and Coconino National Forests
Kaibab and Coconino National Forests have comprehensive websites and official apps that provide tours and content created by educational interpreters and rangers. Hikers, mountain bikers, hunters, and armchair travelers alike can learn about the area's diverse natural and cultural history. They feature audio, image galleries, historic imager, GPS maps and stories about the rich landscape.
Visiting Williams
Williams Tour Guide website offers an insider's guide to where to eat, sleep, shop, explore area attractions, hike the best trails and sightsee in Williams and the Grand Canyon.
The stunning beauty of Grand Canyon is a hot spot for tourists and locals alike, but many towns like Seligman, Tusayan and Williams offer a full range of options. Discovery Map offers in-depth details, with contact information, for events, things to do and see in each town and what amenities and attractions are offered.
The city of Williams does not have an official app, but information about events, lodging, dining and more can be found at experiencewilliams.com.
Visiting the Grand Canyon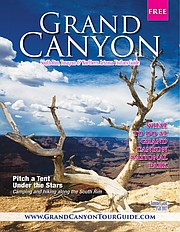 The Grand Canyon Tour Guide website offers everything you need to know about hiking trails, lodging, eating, shopping and exploring area attractions. It's easy to navigate and highlights places in the national park and in the gateway town of Tusayan.
REI has developed the REI Co-op National Parks Guide app that has trail data and hike descriptions for many of the national parks, including the Grand Canyon. Hikes can be searched by ratings and the app shows your exact location on a map. Data is available offline too.
Grand Canyon National Park does not have an official app, but their website has a treasure trove of maps and information about the park, including camping, hiking, interpretive programs, lodging and more.
What's the weather?
Weather Underground is a go-to weather app with excellent data. It has easy-to-read 10-day and hourly forecasts combined with excellent radar maps and minimal advertising.
The National Weather Service app has real-time animated radar images on a highly responsive interactive map. Severe weather alerts and accurate weather information is available for your exact location. All National Weather Service watches, warnings, and other alerts are show on the map.
Where can I camp?
Recreation.gov is a website that is a one-stop shop for trip planning, information sharing and reservations by 12 federal participating partners, which include the Army Corps of Engineers, Forest Service, National Park Service, Bureau of Land Management, Bureau of Reclamation, Fish and Wildlife Service and the National Archives.
The site allows advance reservations at 2,500 federal areas for over 60,000 facilities and activities, including Mather and the North Rim Campgrounds at the Grand Canyon. The website also takes reservations for Kaibab National Forest sites and allows reservations for Coconino National Forest and Sedona area campgrounds.
ReserveAmerica.com is also a website for federal camping reservations and is similar to Recreation.gov but includes state and some private campgrounds that contract with them.
If you do not know the campground name and are looking for any campground in a specific area of a certain state, the search features on ReserveAmerica are a little easier to use. If you know the campground name and location though, Recreation.Gov is easier to navigate.
Both website, have an app, but reviewers recommend going straight to the websites for better functioning.
Find those mountain bike trails
Singletracks app is deserving of mention with the largest mountain bike trail map database at your fingertips, you can easily find and ride new mountain bike trails. You can use the app to find bike shops, share photos and reviews from your ride. You can also check-in at trails, earn badges and view the Photo of the Day feature.
MTB Project is also a comprehensive mountain biking guide with offline maps, full GPS route info, elevation profiles, interactive features and photos. Rides are given stars by users with helpful input. It includes more than 77,000 miles of trails. The app also shows your exact location on a trail.
Get out and hike
For hiking, the AllTrails —Hiking & Running app is one of the most popular outdoor apps. It has 50,000 plus trail maps with reviews and photos for the hiking community. It also includes mountain bike trails. The trail can be filtered by dog friendly, kid friendly and wheelchair friendly trails. The app can be used as a GPS tracker to help follow the trails. It also has detailed driving directions to trailheads.
I'm hungry now
One of the earliest and most widely-known apps for finding restaurants and other services, Yelp, features restaurant reviews and tips from users to help you make a decision about your dining destination. Use it on the fly with GPS or search for favorite foods or cuisines by neighborhood. Many restaurants have teamed up with Open Table to offer online reservations, making booking a breeze.
SUBMIT FEEDBACK
Click Below to:
More like this story