Arizona Game and Fish help West Virginia re-introduce elk to the east coast
Originally Published: January 30, 2018 4:32 p.m.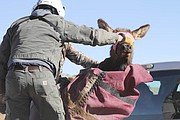 WILLIAMS, Ariz. — "It was the mid-1860s when the last documented elk was killed in West Virginia," said Steven McDaniel, director of the West Virginia Division of Natural Resources. "So we've been working really hard the last few years to get them (back) there."
On Jan. 23 and 24, Arizona Game and Fish Department (AZGFD) partnered with West Virginia Division of Natural Resources, Arizona Elk Society, Rocky Mountain Elk Foundation and multiple volunteers and captured 60 Rocky Mountain elk to be re-located to West Virginia.
With one of the healthiest elk populations in the country, Arizona's elk are ideal for re-location efforts in other areas of the country. The 50 cows and 10 bulls captured last week were removed from Raymond Wildlife Area, located 35 miles east of Flagstaff.
West Virginia chose to partner with Arizona in this conservation effort for several reasons, the first being Arizona's reputation of having a disease free elk population.
There has never been a documented case of Chronic Wasting Disease (CWD), a neurodegenerative wildlife disease fatal to deer and elk, in Arizona. AZGFD has tested for the presence of the disease since 1998. The second reason was the strong partnership between wildlife divisions in each state.
"The people of Arizona are so doggone nice. They have gone out of their way to work with us. It is so refreshing to come out here," McDaniel said. "Everybody has come together to put this program together."
The elk will be taken to southern West Virginia, near Charleston, where they will live in a wildlife area that is approximately 40,000 acres. McDaniel said West Virginia currently does not have predators that will bother the elk. The herd from Arizona will join a smaller herd of 22 elk transported to West Virginia last year from Kentucky, another state clear of CWD.
"Our goal is to bring in 250 over a four or five-year period and then let the herd go from there," McDaniel said.
The area for the relocation in West Virginia borders Virginia and northeastern Kentucky. McDaniel said Kentucky's elk population is currently between 12,000 and 15,000 animals. In the next 15-20 years, West Virginia expects the herds established in all these states to cross borders and intermingle.
After the West Virginia herd is established (five to seven years), a hunting system will be set up to allow managers to maintain populations. However, McDaniel said what most people are excited about is viewing opportunities.
"Eighty-five million people in 2016 went somewhere where they could view wildlife," McDaniel said. "West Virginia is one the most centrally located areas in the United States as far as population is concerned. Within an eight hour drive from where these elk are going you have almost 70 percent of the population of the United States."
AZGFD estimates there are around 60,000 elk in Arizona, including calves.
Amber Munig, Big Game Program Supervisor for AZGFD, said the population at Raymond Wildlife Area is stable and has steadily increased in size over the years.
"This population has been increasing, so it's robust enough for us to be able to take 60 animals out and help establish them in West Virginia," she said.
In the early 1900s Arizona's elk population was hunted off and game managers had to re-establish a population in much the same way they are now for West Virginia.
"They had been extirpated from the state," Munig said. "We originally had a sub-species called the Merriams elk and in 1913 the Elks Club partnered with the Wyoming Game and Fish Department and Yellowstone National Park and brought in about 84 elk and re-established them in Arizona. It was just east of here a little ways. That has been the core of our elk population across the state of Arizona."
Munig said it took several trans-locations in the 1900s before a healthy elk population was established in Arizona.
"They really didn't take off until about the 70s and 80s and then our populations really started to grow," she said.
Game and Fish has not partnered with another state in elk re-locations since 2001 when Arizona moved elk to Kentucky.
Elk capture
To capture elk, AZGFD uses a net gun fired from the helicopter. A spotter plane and individuals on the ground are used to help locate the herd and direct the helicopter. Once the helicopter is in position a mugger exits the helicopter and restrains the elk.
The department said their goal is to minimize chase time to three to five minutes in order to keep the elk from getting stressed. Once the elk is captured, it is immediately blindfolded, which helps calm them. They are hobbled and injected with a mild sedative, before being placed in a sling beneath the helicopter. They are then flown back to a waiting truck which transports them to a holding pen, where they will be quarantined for 30 days.
"The movement of the air across that bag (beneath the helicopter) actually cools their temperature which is a way to keep them calm and relaxed," Munig said.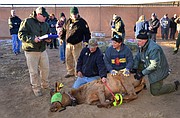 Once they arrive at the holding pen they are fitted with a radio collar and ear tag. Their temperature is taken and the overall health of the animal is assessed before it is released into a pen with other elk. The 30 day quarantine period is to test for diseases. The elk will then be sent by truck to West Virginia.
Elk populations were extirpated from West Virginia in the 1860s after they were over hunted. In the last 10 to 20 years there has been a movement to bring the elk back.
"It was a natural thing to try to bring the elk back, because before white men settled into Virginia and western Virginia the elk were everywhere, as were bison. Like every other animal, they were either over-trapped or over-hunted," McDaniel said.
"For us to be able to take animals from Arizona and re-establish them in a place they once existed is a great management effort. It's why we do management and it's just good conservation," Munig said.

SUBMIT FEEDBACK
Click Below to: