How dangerous is State Route 64?
Originally Published: January 23, 2018 4:38 p.m.
Two recent accidents with multiple fatalities have shaken residents and travelers on State Route 64, but how bad is the highway when compared to other highways in the state?
That answer is not easy to come by, but information from Coconino County Sheriff's Office (CCSO), and data gathered by the National Highway Transportation Safety Administration (NHTSA) and the Arizona Department of Transportation (ADOT) shed some light on that question.
"The average speed I see on 64 is 80 plus," said Brian Tozer, a Coconino County Sheriff's Office lieutenant who works the SR 64 corridor.
Tozer said speed and inattentiveness are the main causes of accidents on SR 64.
"I don't know if people think the canyon closes at a certain time or what their concern is about getting up there so quickly, but it is not uncommon to see people doing in excess of 110 mph on highway 64," he said.
Tozer said the majority of the violators that he contacts are visitors to the Grand Canyon. The Canyon received over 6 million visitors in 2017, which averages 16,438 people per day.
Many of those visitors take the train to the Canyon or come via a tour bus, but a large portion also rent vehicles and drive to the park.
Intriguing to people from all over the world, the Grand Canyon receives a large population of foreigners wanting to look over the rim.
"A lot of drivers we are seeing are from out of the country," Tozer said. "We've seen some really bad driving behaviors on 64."
Foreign visitors are not required to take a driving test to drive in the United States, they only need a driver's license from their home country or an international driver's license to drive a vehicle.
Enforcement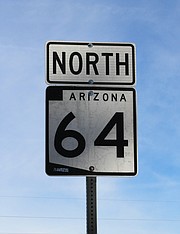 Tozer said the Department of Public Safety (DPS) has more law enforcement on SR 64 than in previous years. He said DPS and the CCSO deputies spend a lot of time patrolling the road and citing violators, but he said he doesn't see that as the only solution.
"The problem with that is the transient population," Tozer said. "I can sit out there every day and write 100 citations and there would be a whole new group of people going through the next day."
Tozer said he has seen drivers pass in the turn lanes, pass over double yellow lines, pass on the shoulder and pass on blind corners.
Tozer said he has even had violators pass his own patrol truck on double yellow lines.
When asked about a solution to the problem, Tozer said he doesn't have any solid recommendations.
"I've had people ask me why we aren't making it a four-lane highway," Tozer said. "Yes, 64 needs to be improved, but to make it four-lanes —I just see it as four-lanes of people going 80 miles per hour plus."
The data
Data from 2016 revealed there were 865 fatal accidents on the roadways in Arizona. Of those 865 fatal accidents, 35 were in Coconino County and on SR 64 there was one.
Despite what seems to be a lot of speeding cars, poor driving behavior and regular accidents, the fatal crash data on SR 64 is lower than most of the other corridors in northern Arizona.

NHTSA gathers data from state reporting agencies across the country and allows public access through their FARS Data Query. FARS collects data on fatal traffic crashes within the 50 States, the District of Columbia and Puerto Rico. To be included in FARS, a crash must involve a motor vehicle traveling on a road that is open to the public and results in the death of a person within 30 days of the crash.
NHTSA fatal crash data from a 10-year period between 2007 and 2016 was compared between six similar corridors in northern Arizona.
I-17 fatal crashes were looked at between Flagstaff and Camp Verde; I-40 between Flagstaff and Ash Fork; US Route 89 between Flagstaff and Page, SR 89 between Ash Fork and Prescott; US 180 between Flagstaff and Valle; and SR 64 between Williams and the Grand Canyon.
Using that query, fatal crash data from 2007-2016 revealed:
Interstate 17 — 57
Interstate 40 — 38
U.S. Route 89 — 44
State Route 89 — 22
US 180 —11
SR 64 — 6
*Note each crash may include more than one fatality
Arizona Department of Transportation (ADOT) collects daily traffic data for every road in the state. ADOT does not just have one count for each highway, but instead collects data from multiple points along the routes.
In 2016, ADOT determined the following annual average daily traffic volume along the roadways in northern Arizona:
I-17 — 17,460 at Kachina Blvd. and 26,732 at Camp Verde;
I-40 — 21,978 at A-1 Mountain Road and 18,171 at Garland Prairie Rd.;
US 89 — 4,280 at the Gap and 18,224 at the Townsend Winona Road;
SR 89 — 3,423 at Drake and 16,926 at the SR 89A junction;
US 180 — 4,255 at Snow Bowl Rd. and 1,204 in Valle; and
SR 64 — 6,937 near the Spring Valley Road and 7,403 at the entrance to the Grand Canyon.
Any solutions?
ADOT recently completed a corridor study for SR 64. The study provided a strategic vision for assessing the overall health of the highway.
The study began by identifying the corridor needs and deficiencies. After identifying the needs, the assessment was used to evaluate a range of solution options and prioritize projects within the corridors.
The study included five performance measures —pavement condition, bridge condition, mobility, safety and freight movement.
On the SR 64 corridor, the study found that freight index was the lowest performing area with 94 percent of the corridor in poor condition as it relates to bi-directional truck movement and delays.
Bridge condition, mobility and safety were the highest performing areas with 100 percent of the corridor in good condition for those measures.
According to Ryan Harding, public information officer for ADOT, safety was assessed by reviewing crash history over a five-year period, focusing on fatal and serious injury crashes and comparing that data to other state highway that are similar in overall operating condition.
"Our safety evaluation of the highway found that it performed better than average," Harding said.
The study did find several sections of pavement need rehabilitating along a 50-mile stretch of the road, especially the segment closer to Williams. The study found that 46 percent of the pavement on SR 64 was in good condition but 54 percent was in poor condition.
The study also pointed out the need to improve bicycle accommodation on the highway by increasing the shoulder width, and the need for several additional passing lanes.
"As for traffic engineering issues such as lighting and speed limits that we've heard about from constituents, we are currently looking into those things," he said.
Harding said the needs identified in the study will be compared with the needs of other highways in Arizona when it comes to prioritizing funding and long-term planning.
SR 64 is slated for pavement repair in FY20, but ADOT has not revealed any plans to address passing lanes, shoulder widening or other needs identified in the study.
Anyone interested in contacting ADOT can do so through the website https://apps.azdot.gov/contact_adot/.
SUBMIT FEEDBACK
Click Below to:
More like this story