Arizona DACA recipients react to federal judge's program decision
Andrea Estrada and Leah Goldberg, Cronkite News
Originally Published: January 23, 2018 4:16 p.m.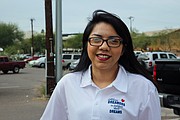 PHOENIX, Ariz. — A federal judge's late night decision on DACA stirred up mixed reactions from recipients in the Valley.
One of them, Elizabeth Perez, said she did not consider the ruling as a complete breakthrough for the DACA community.
"Yesterday's decision was great, but it's not a win because we still don't have a comprehensive immigration reform, a Dream Act or full DACA reinstituted," she said.
Perez is just one of the almost 28,000 DACA recipients in Arizona who face an uncertain future ever since President Donald Trump announced last September the program was being rescinded.
Since 2012, DACA has served as an unofficial fix for undocumented young people to work, drive and live lawfully in the United States.
"I consider myself to be American," DACA recipient Karina Ruiz said.
She is also the president of the Arizona Dream Act Coalition (ADAC).
"I might not have a document saying that I am a citizen, but I love this country," she said. "We are about making where we live a better place. I think that's very American."
Ruiz works at ADAC assisting immigrants in the U.S. towards a path to lawful U.S. citizenship along with the application process for DACA recipients.
Ruiz also said DACA activists are still planning to ask the Democratic party "to hold off their vote on the spending bill on Jan. 19. We want them to hold the line for us unless there is a DREAM Act attached to it."
By keeping pressure on Congress, Ruiz said, they could potentially get the clean DREAM Act they need.
"It's a small victory, a step in the right direction. But we cannot forget the DREAM Act covered over 2 million youth and DACA is just covering over 800,000," she said.
Last September, U.S. Attorney General Jeff Sessions announced the DACA program would end and the final deadline for DACA two-year renewal would be Oct. 5, 2017. Recipients under this guideline were only eligible if their DACA expired March 5, 2018.
But Alsup's decision allows anyone who currently has the status to reapply.
On the other side, Arizona State Rep. Andy Biggs highlighted that Trump was well within his rights when he decided to end the program.
"Judge Alsup's decision further demonstrates the need to reshape our judicial system to prevent activist judges from imposing their political views on rulings of this magnitude," he said in a statement.
David Asser, an Arizona immigration attorney, pointed out that the judicial system does have the power to overturn the federal judge's decision.
"The 9th Circuit could review that decision and overturn it," Asser said. "I don't think that's very likely and then it can go to the (U.S.) Supreme Court and there could be an injunction at that particular point."
For those with DACA status, Asser did offer some guidelines to follow.
"The right answer to someone who might be eligible for DACA is to make sure they research the situation well, that they are well prepared and they also have a backup plan because most of the DACA recipients may actually be eligible for some other form of relief," Asser said.
Perez, who has lived in the U.S. for 25 years, said leaving the country is not an option for her.
"I know nothing else other than America. I'm an American," she said. "I'm going to stay in the United States because this is my country."
Note: This article has been edited from the original. The complete article can be found at https://cronkitenews.azpbs.org.
SUBMIT FEEDBACK
Click Below to: