Grand Canyon Distillery opens with high spirits
Originally Published: January 16, 2018 10:39 a.m.
Lovers of craft spirits have a reason to raise a toast — the owner of Grand Canyon Brewing Company has expanded his operation and opened a distillery to make artisanal liquors.
John Peasley's craft brewery and restaurant at 301 N. 7th St. recently completed licensing requirements to begin producing distilled alcohol, with their first batches of vodka and rum already hitting the shelves around northern Arizona.
"We're coming out with a very diverse lineup right out of the gate," said head distiller Kris Bohm. "Our primary focus is actually whiskey, although today we are doing rum and we've done vodka."
Known as Grand Canyon Distillery, the business employs a small staff who shuttle between the brewery, restaurant and distillery.
"One of the things we pride ourselves on is doing this handcrafted," Bohm said. "You can see every step from me dumping the molasses out of the drums to us putting the rum in the bottle, it's all hands on."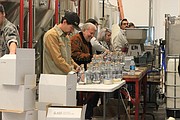 Grand Canyon Distillery is one of 26 distilleries in Arizona.
According to the American Craft Spirits Association, the number of craft distillers in the United States grew by 21 percent over the past year, selling nearly 6 million cases of spirits with $3 billion in sales.
"There is a growing market for this," Bohm said. "A lot of it is piggy backing off the craft beer scene. A lot of people prefer to get a locally made beer and that's the big selling point on our spirits."
Northern Arizona is no stranger to craft distilleries, with Flagstaff alone boasting two, including Canyon Diablo Spirits and Black Hat Distilling.
Grand Canyon Distillery hopes to make its mark by producing unique variations of spirits such as their vodka, which is made from malt.
"Our vodka actually has a slightly sweet characteristic to it and a bit of a sweet aroma," Bohm said. "It's very soft, very smooth, easy drinking."
Bohm said the distillery's rum is made from Louisiana molasses.
"It is fermented and has a single distillation, which produces a Caribbean style of rum that's very fruity and flavorful," he said.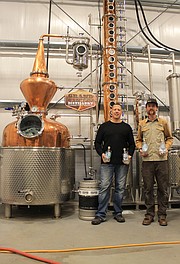 The process
Grand Canyon Distillery is housed in the same warehouse as Grand Canyon Brewery, which allows the staff to use fresh malt in their vodka.
Bohm said the fermented beer is placed in the boiler and heated up. Since alcohol has a lower evaporation temperature than water, the alcohol evaporates first.
"We are heating up that beer and the steam that is coming off the beer travels up the pot and over and across to the condenser," Bohm said.
The condenser is full of cooled liquid, and as the hot vapor hits the cool liquid, it condenses back into a liquid and slowly trickles out, he said.
In the case of the vodka, Bohm triple distills it. When the liquid initially comes out, he redistills it a second time, which takes it up to about 100 proof. The liquid is then distilled a third time.
"What makes a vodka a vodka is that it's distilled to 190 proof," he said.
The final step in the distillery's process is sending the vodka through a carbon filter and adding reverse osmosis water to reduce the spirits to 80 proof.
"And then we bottle it," he said. "You can taste a bit of the malt that went into it. It's a fun spirit, its unique and something cool we're doing here. It's a little different than most."
The distillery is also fine tuning their rum and whiskey processes. They plan to begin filling their first whiskey barrels within the next month, which will be stored to allow aging over several years.
"We are going to be doing a lot of whiskey here, single malt whiskey as well as bourbon and some smoked whiskeys," Bohm said. "In the case of our bourbon, I'm hoping it will be done by 2020."
Bohm's background
Bohm comes to Grand Canyon Distillery with several years of distillation experience. He recently left Still Austin Whiskey Company in Austin, Texas, where he was the head distiller. Bohm also designed and built the facility, which became the largest whiskey distillery in Texas.
Prior to the Austin distillery, Bohm lived in Southern California where he worked at another distillery and also spent time as an industrial construction manager.
"I used to build power plants before distilling," he said.
Bohm said his varied background and schooling in business management have all helped him excel in the distillery business.
Peasley's vision
Besides Grand Canyon Distillery, Peasley owns several other businesses in the Williams area which include Roxie's, White Horse Trading Company, Cruiser's Restaurant, Grand Canyon Brewing Company and a property management company.
Peasley said he is depending on Bohm to lead Grand Canyon Distillery's growth with his experience and knowledge.
"You hire people who know exactly what they're doing, you pay them for their work and you create a team," Peasley said of his management style. "Everything I've done here is find the right people for those positions and then they manage their own people and essentially create the growth in the companies that we have."
Peasley anticipates the distillery doing well in the future with current distribution going to central and northern Arizona, including the Phoenix, Flagstaff and Grand Canyon areas.
"If this turns into something that I think it will, then I'll build a separate building and move the distillery out of here and create its own entity," he said.
---
SUBMIT FEEDBACK
Click Below to: