Gas leaks, car accidents, structural fires keep WFD hopping
Originally Published: January 16, 2018 11:22 a.m.
Although temperatures remained mild throughout December, the Williams Fire Department (WFD) kept busy with an influx of holiday visitors and calls from local residents.
Williams Fire hosted a Christmas party in December to share the season with family and friends.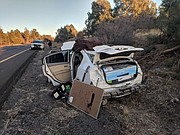 At the party, Kevin Perkins and his son, Jimmy, received badges for their five years of service to the department.
Ryan Kopicky was selected as Firefighter of the Year and Karen Rankins was given a certificate of appreciation for her help and guidance with fire department accounting.
Firefighters responded to multiple calls in December.
These included a call for a motor-home with a suspected propane leak, a possible smoke scare at a local residence, a gas leak at a residence and a local restaurant, a mutual aid request for a multi-car accident on State Route 64, a smoke alarm at a local residence, a rollover accident on I-40 that involved a passenger car and trailer, a dump truck with trailer roll-over on I-40 and a single vehicle accident on I-40.
It also included responses to hotel smoke alarms, a semi-truck vs. elk accident on I-40, a gas leak at a local store, a brush fire, a smoke alarm at a residence, a rollover semi-truck accident, a semi-truck fire on I-40 in addition to a motor vehicle accident on I-40.
Firefighters also responded to a gas leak at a restaurant, a mutual aid request for a house fire in Parks, a smoke scare at a residence, a possible gasoline leak at a store, a gas leak at a station and finally to an overheated electrical fan at a hotel.
Community projects
On Dec. 1, Girl Scout Troop 2616 visited Fire Stateion2 and learned how firefighters depend on turnouts and other fire apparatus.
On. Dec. 22, WFD members Yvonne Anderson, Robert Kruse and Shilo Thompson helped with the Community Nativity Pageant.
Administration
WFD is seeking funding for an extractor and dryer for turnouts. A grant application was submitted for radio microphones and radios.
The apparatus committee is working on a plan for future apparatus, and the department continues work on the WFD Strategic Plan. The department hopes a strategic plan will help provide direction and guidance to the department and the city.
SUBMIT FEEDBACK
Click Below to:
More like this story