Ponderosa Fire battles house blaze in Parks
Originally Published: January 9, 2018 10:28 a.m.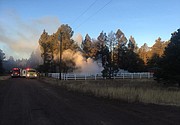 A family vacation home was deemed a total loss following a structure fire in Parks Dec. 29. No injuries were reported.
According to Ponderosa Fire Department Chief Lee Antonides, a 911 call came in at 5:37 a.m. from a neighboring residence reporting the fire at 12717 E. King John Road in Parks.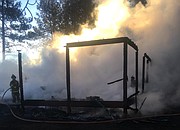 Firefighters from Ponderosa Fire Department responded and found the house engulfed in flames.
"I was first one on scene and the structure was probably 70 to 80 percent involved at that time," Antonides said.
Antonides said although the home was later determined to be vacant, at the time of the blaze firefighters were unaware of whether the home was occupied or not.
"My crew did a preliminary search and were able to get inside and search the living room, but the conditions were bad enough they had to pull out," he said.
The home is owned by a family who lives in Tucson.
Ponderosa put out a call for additional assistance and firefighters from Sherwood Forest Fire Department, Flagstaff Fire Department, Camp Navajo Fire Department and Williams Volunteer Fire Department responded. Coconino County Sheriff's Office, Life Line Ambulance and APS also responded.
"Once we realized we were defensive on the structure, our primary goal was to keep it from spreading to the trees and the rest of the neighborhood," he said.
Firefighters were able to contain the fire to the house and garage. Several ponderosa trees on the property burned, but firefighters were able to save a barn and fencing on the property. All that remains of the home is the roof and porch.
Antonides said Flagstaff Fire Department is conducting an investigation as to the cause of the blaze, but at this time it is undetermined.
"Because of the amount of damage to the home, it's very hard to do an inspection when there is really nothing left," he said.
Other incidents
Antonides said Ponderosa Fire Department has been unusually busy over the past two months. He said the department has dealt with eight fatalities beginning with a deadly structural fire where one man died in early November, followed by two fatalities in two separate accidents on I-40.
They department also dealt with a large semi-truck pile-up on I-40 during the first snowfall of the year in December, and the carbon monoxide poisonings and second structural fire last week.
"That is very uncommon for us," Antonides said about the number of incidents.
Ponderosa Fire District has six full-time firefighters, two full-time chiefs and a combination of volunteer and reserve firefighters, according to Antonides.
The district includes homes and property in the Parks area, and traffic incidents on I-40 from milepost 191 to milepost 171.
SUBMIT FEEDBACK
Click Below to: