McDonald's beefs up with new technology
Originally Published: January 9, 2018 9:24 a.m.
Putting an ambitious foot forward in its efforts toward digital innovation, McDonald's in Williams has unveiled a new model that includes mobile ordering, self-serve kiosks and table-side delivery.
The Williams restaurant is included in just 13 percent of the McDonald's U.S. locations that have been remodeled for the chain's experience of tomorrow layout, which includes ordering kiosks and optional table service.
Following several months of renovations, McDonald's not only sports a new exterior and interior facade, but also a digital soda machine, touch-screen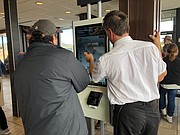 ordering kiosk and food delivery.
"It's been an adventure, we're very excited about it," said Jordan Slater, department manager at the Williams McDonald's.
Customers who visit the new McDonald's will immediately notice a new gunmetal color-scheme on the exterior of the building and several new digital options inside the store, giving the restaurant a high-tech look.
The old push-button drink dispenser has now been replaced with a digital machine, one of just three so far in Arizona according to Slater.
"It is similar to the regular drink tower but it has a touchscreen," Slater said.
In the front of the store, a new self-serve kiosk allows customers to make their selections on a digital touchscreen and pay by credit card. They then receive a table top card with a number that allows a server to -bring out their food.
At the drive-through, customers have two digital menu boards that allow simultaneous ordering.
"We have two order points now so we can have tandem ordering," Slater said. "It's similar to those McDonald's that have two lanes."
Slater said the restaurant also is taking orders through their online app. Once an order is placed, customers can pick up their food in the restaurant, in the drive-through lane or at two specially marked parking spots in front of the store.
The interior of the McDonald's has also been updated with fresh paint, wallpaper, floor tiles, counters, ceiling grid, restrooms and tables and chairs.
A national push
In March 2017, McDonald's revealed plans at its annual investor day to make mobile order and pay available at all of its roughly 14,000 U.S. restaurants by fall of that year. It also wants to have digital ordering kiosks at 2,500 restaurants and begin table delivery.
McDonald's is one of the latest restaurant chains to opt into increasingly popular ordering apps that are now used by Starbucks, Chick-fil-A, and Chipotle among others.
According to Forbes, the percentage of orders booked online or using a smartphone or tablet app for fast food restaurants is 6.6 percent surpassing the 5 percent placed verbally over the telephone.
McDonald's revealed plans to spend around $1.7 billion, about two-thirds of which will be spent on existing stores, to win back many customers lost to rivals such as Wendy's, Burger King and Taco Bell. Some of that money will go to radically overhauling 650 restaurants to meet their experience the future look. They hope to have all U.S. restaurants done by the end of 2020.
Total revenue for the burger powerhouse was $5.75 billion dollars October 2016 to October 2017, a decrease of 10 percent from the previous year.
McDonald's attributes the decline to its efforts at refranchising businesses in Hong Kong, China and focusing on menu innovation, store renovations, digital ordering and delivery options to sustain growth and attract more customers.
In the past two years McDonald's has attempted to increase business by implementing several options nationwide.
In 2016, McDonald's launched All-Day Breakfast and replaced their $1 menu with the McPick 2 that allows customers to order two items from a list, paying just $5.
In September 2017, McDonald's announced it had added a new set of espresso-based drinks to their McCafé menu: the caramel macchiato, vanilla cappuccino and the Americano.
McDonald's also rolled out a number of new menu items that use higher-quality ingredients — and cost customers more money such as their Signature Crafted sandwiches with ingredients like Sriracha, and guacamole, and their artisan grilled chicken, new Buttermilk Crispy Tenders and fresh off the grill beef burgers.
The chain plans to unveil a new value menu in 2018, focused on $1, $2 and $3 items.
GlobalData Retail Managing Director Neil Saunders said improvements to the restaurants are helping to shift perceptions of McDonald's.

"Refurbished locations project a modern image and are also spaces that help attract new diners, especially family segments and younger age groups," Saunders said in a press release.
SUBMIT FEEDBACK
Click Below to: