Another accident claims one on State Route 64
Originally Published: January 9, 2018 10:11 a.m.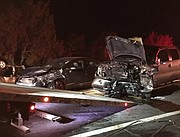 On Dec. 28, just six days after a multi-fatality accident at milepost 207 on State Route 64, emergency personnel responded to another significant car accident on SR 64 at milepost 191 that resulted in a fatality.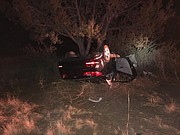 According to High Country Fire Rescue Chief Robert Trotter, fire personnel were dispatched to a call for a rollover traffic accident around 7:30 p.m. Dec. 28.
Upon arrival, firefighters and law enforcement officers from the Department of Public Safety (DPS) and Coconino County Sheriff's Office (CCSO) found three vehicles involved in an accident just north of the intersection of SR 64 and Tall Tree Lane.
Trotter said two vehicles were involved in a head-on crash and a third vehicle was a secondary accident.

According to Trotter, it appeared that a full-size Ford truck with one occupant was driving north and turned into the southbound lane, striking a black Kia sedan with four occupants. The Kia rolled into the ditch coming to rest on its roof next to a tree. The third vehicle, a gray sedan with two occupants, slid into the truck.
Trotter said it required 20 minutes for firefighters to extricate the four patients from the black sedan.
Of the ten occupants of the three vehicles, seven were injured and transported to Flagstaff Medical Center (FMC). Four patients were in critical condition, with three flown by Guardian Air and DPS Ranger to FMC. The remaining four patients, including a 7-month pregnant passenger, were transported by ground to FMC by Life Line Ambulance and Guardian ground transport.
One passenger, seated in the right rear seat of the black sedan, died from their injuries at FMC Dec. 29. According to DPS spokesman Bart Graves, the victim was the only occupant in the vehicle not wearing a seat belt.
Drivers of the truck and Kia sedan were both wearing seat belts.
Trotter said the driver of the truck is a local Williams resident. The occupants of the other two vehicles are foreign tourists.
Graves said the cause of the accident is still under investigation by DPS.
"If people would slow down, not speed and not be in such a hurry to get to the Grand Canyon and home from the Grand Canyon, things would be a lot better," Trotter said.
High Country Fire Rescue would like to thank Sherwood Forest Fire Department for responding and assisting at the accident.
SUBMIT FEEDBACK
Click Below to: