SpaceX rocket launch lights up northern Arizona night sky
Originally Published: January 2, 2018 10:54 a.m.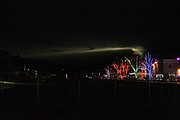 If you saw an unnatural, bright light streaking across the night sky last Friday you were witnessing the launch of the SpaceX's Falcon 9 rocket in Southern California.
The launch took place in California at Vandenberg Air Force Base, north of Los Angeles, around 6:30 p.m. Dec. 22. It could be seen across Southern California and many parts of Arizona. It was the 18th launch and final mission of the year for SpaceX.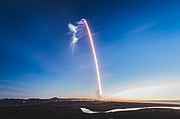 Because of the strange occurrence and bright light, many people alerted media outlets across Arizona and California.
According to spacex.com, the launch carried 10 Iridium Next communications satellites into orbit just after sunset. The launch left a glowing plume in its wake as it soared into space on its southward trajectory.
The rocket will deliver the satellites to low-Earth orbit for Iridium, a global leader in mobile voice and data satellite communications. This is the fourth set of 10 satellites in a series of 75 total satellites that SpaceX will launch for Iridium's next generation global satellite constellation, Iridium® NEXT.
Iridium NEXT will replace the world's largest commercial satellite network of low-Earth orbit satellites in what will be one of the largest "tech upgrades" in history. Iridium has partnered with Thales Alenia Space for the manufacturing, assembly and testing of all 81 Iridium NEXT satellites, 75 of which will be launched by SpaceX. The process of replacing the satellites one-by-one in a constellation of this size and scale has never been completed before, according to spacex.com.
SUBMIT FEEDBACK
Click Below to:
More like this story