Senior spotlight: Vikings look to graduation and beyond
Originally Published: January 2, 2018 2:23 p.m.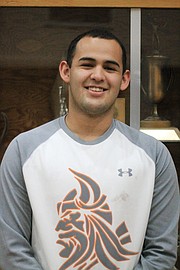 Diego Pedraza is a three-sport senior at Williams High School (WHS). He has played baseball, basketball and football at WHS.
Pedraza was the starting quarterback for the 2017 State Champion Vikings. He quickly transitioned to basketball this fall and hopes the basketball team will also do well in the state playoffs.
Pedraza played football and basketball for four years at WHS and played one year of baseball.
Pedraza said he has enjoyed his four years at WHS and appreciates the time coaches Jeff Brownlee and Phillip Echeverria have put into him with his grades and attitude. However, he said there are many teachers who have encouraged him throughout school.
Pedraza said he likes his math classes the most at WHS, but looks forward to graduation. He plans to attend Northern Arizona University next fall. He is interested in veterinarian science, but is undecided about a major.
He said in his free time he is always playing some sport, but also likes to hang out with his friends. He said he also works for his parents when he is not in school.
When traveling with the Vikings, Pedraza likes to eat at Mexican restaurants such as Filiberto's and Francisco's. When asked who he would like to go on a road trip with, he said he would bring the entire football and basketball teams if he could.
Veronica Hernandez is a three-sport athlete at Williams High School. She played softball, volleyball and basketball for WHS.

Hernandez enjoys academics as much as athletics and is in the National Honor Society, Upward Bound and has been in student council.
Her favorite sport is basketball. She hopes the team makes it to the state playoffs this year, and thinks the team has really improved since last year.
She said her favorite classes in high school are math, because she likes the logical thinking. She said one of her favorite classes has been pre-calculus with Ms. Kowolski. She said she also appreciates the support of Mrs. Smith and Ms. Kowolski.
She plans to attend Northern Arizona University this fall on a Lumberjack Scholarship and Earn-to-Learn Scholarship. She would like to study biology. She is uncertain about a career, but knows it will be in the biology field
In her free time Hernandez likes to play sports. She helps her parents with any chores they need her to do also, and also helps at her church.
When asked who Hernandez would like to go on a road trip with she said she would take Paige, Sarah, Alessandra and her sisters. When she travels with the team she likes to eat at Subway.
SUBMIT FEEDBACK
Click Below to:
More like this story