Church shootings prompt Williams Police to patrol community churches
Originally Published: January 2, 2018 10:17 a.m.
In the past, the presence of an on-duty police officer at a church service may have raised concerns, questions, or at the very least, curiosity, today, however, following a mass shooting in a Texas church last year that left 26 people dead and more than 20 people injured, an officer's presence is understood and, in most cases, a welcome sight.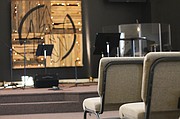 After his shift was changed from Wednesday to Sunday mornings, Williams Police Officer Robert Anderson went to his superiors and suggested he start patrolling at local churches. Anderson said the purpose of his presence is to discourage anyone with ill intentions to think twice before committing a crime, whether that be a shooting incident or stealing from the offering plate.
"The incident that took place in Texas was nationwide. Everyone saw the shooting that had taken place. So I got to the point where I was like, 'you know what, let's start patrolling the churches,'" Anderson said.
One church Anderson visited recently was Northwoods Church on the western edge of town. Northwood's pastor, Brandon Miller, said Anderson's presence was an unexpected surprise.
"I think it's great," he said. "Especially with the things that have happened. When Officer Anderson came it had been a couple weeks after the church shooting in Texas and I think the thing that hits home with that story is that it was just a small town church. You don't expect it. It was just somebody who wasn't OK and didn't like church people. So that was something that I felt was a really positive thing when (Anderson) walked in. Especially with that heightened sense of (knowing) that this doesn't just happen in big cities and it doesn't just happen in big churches. It was a very welcome sight."
When patrolling, Anderson looks for things that are out of the ordinary or unnatural behaviors, specifically for people who are out of sorts or disconnected from the service and those around them. Anderson said it is important for people to be aware of their surroundings and to remember that bad things happen everywhere.
"We have to change the mindset that it won't happen here. I believe that once the mindset has changed that it can happen here then I believe plans can be set in motion to help," Anderson said. "Any place you have human beings has the propensity for crime to take place. No matter how small, no matter how large, anybody can do it."
Some churches have asked Anderson what they can and cannot do when securing their building in the event of an attack.
Anderson warned against arming individuals without proper training.
"Without training and without really understanding about firearms a lot more people could get hurt," he said.
Many churches in Williams, including Northwoods and First Baptist Church of Williams, have security teams in place.

"We call ourselves the Saints of Safety (SOS)," said Bob McCarty, leader of security for First Baptist.
SOS consists of retired peace officers, half a dozen licensed carry-conceal weapon holders and several EMT's and firefighters. The team is trained to handle safety at the church. Evacuation planning and medical emergency training is also provided.
"So not only security against bad guys, which we take very seriously, but we also prepare for medical emergencies. You have a lot of elderly people in a church and you have to be able to take care of them until Life Line gets there," McCarty said. "We are pretty well set."
McCarty said once a year SOS members are introduced to the congregation, identifying themselves as part of the security team.
"We teach the congregation that if we holler out, 'SOS, get down' what they should do is lean forward, get their head as low as they can and pray for us. The only people standing up are the good guys (security)."

Miller said Northwoods also has security measures in place should an incident occur.
"We have a security team, we've had one for a couple years now. What the shooting in Texas did for us was help us with having plans in place rather than just having a security team. We've put together plans now on how we handle a situation if something were to come up," he said.
While it may not always be necessary or viable for the police department to have an officer at every church on Sunday morning, knowing officers are in the area and patrolling is a comforting thought for most congregations.

"As it's available I think that's a really nice thing," Miller said. "I think it'd be too much to ask for there to be a cop at every church and every service, that's not something they'd be able to accomplish, but knowing that there's a presence there … and that they're available and even if something were to be going on and they sense they needed some help, that's a welcome sight."
McCarty said he has briefed and shared First Baptist's security plan with several local churches and two churches in Flagstaff. One online resource McCarty uses in training is Sheepdog Church Security Training, which provides online resources for security teams.

"We are spreading the word ourselves, amongst the brethren, as well as telling them what we do and what we feel works," he said.
More like this story
SUBMIT FEEDBACK
Click Below to: