Navajo, Havasupai resist uranium mining
Originally Published: February 27, 2018 9:29 a.m.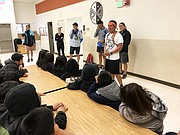 SUPAI, Ariz. – Vice President Jonathan Nez joined Arizona State Rep. Eric Descheenie and six other runners on a run to the village of Supai Feb. 14 to collect handwritten letters from the students of Havasupai Elementary School.
The letters are addressed to U.S. President Donald Trump in response to speculation that he plans to lift a 20-year ban on uranium mining in the greater Grand Canyon region, which was established by the Obama administration in 2012.
"We came to support the efforts of Representative Eric Descheenie and the Havasupai tribe to elevate the voice of the Havasupai youth." Vice President Jonathan Nez said. "Their voice needs to be heard, especially on issues that impact their health and way of life."
"Uranium has killed fathers and grandfathers and great-grandfathers across the Navajo Nation. It has contaminated the water supply in numerous areas poisoning plants, animals and people. For this reason, mining and transportation of uranium are banned on Diné Bikéyah, said Vice President Nez.
At an assembly held at the school Rep. Descheenie said, "We are going to make sure your words are received and read by the president of the United States so when he makes decisions that impact your lives he does so with you in mind. You have a powerful voice and it must be heard."
Rep. Eric Descheenie and Havasupai Chairwoman Carletta Tilousi are scheduled to hand-deliver the letters to the White House Feb. 14 at 9 p.m.
The youth at Havasupai Elementary School are neither despondent about their future nor are they ignorant about uranium and the effects mining could have on their community. When a group of fifth-grade students was asked what they wrote about, the first thing mentioned was uranium contamination of the water.
"Water is life," said one of the students named Landis. Then he smiled wide and said, "Water is lice too."
His classmates laughed and Chilali responded, "Nature is life too."
"We need water for animals and living," A'oda said. "And plants."
"And swimming for when it gets too hot," Landis added.
Principal Dr. Jeff Williamson said Havasupai Elementary School has not taken an official position on the issue and has strived to maintain objectivity. Therefore, the letters were written by the students to represent their own views. Some students wrote in their off-time during recess, during extra lunch-time and even after school over a two-week period.
"The teachers provided the research time and time to draft their letters to the president," Williamson said. "This is a great opportunity to have their voices heard."
The gathering of the letters was documented by Arizona PBS. A segment was scheduled to air Feb. 19, on Cronkite News at 5 p.m. and afterward on Arizona Horizon. The news station worked to cooperate with the Havasupai Tribe and Havasupai Elementary School before it began filming and collaborated with Havasupai tribal leaders and Descheenie's office.
After reading her letter on camera for the segment, eighth-grader Tahj-Rae said in a separate interview, "They say the mining will be near the Grand Canyon. I would like to know where near is. My concern is about how the contamination would affect our people and our water exactly."
The run down and up the canyon to and from the village of Supai was approximately 15 miles total. Runners included Alvin Begaye, Jackie Frank, Adrian Herder and renowned ultra-runner Emily Harrison who qualified for the Olympic trials for the marathon and won the International Association of Ultrarunners 50K World Championships in 2014.
"We all have a passion for running and it brought us together to do something else that everyone is passionate about in stopping the uranium mining," Harrison said. "As a collective, you're more powerful and you all have a greater voice and can make a greater impact."
In speaking to the youth, Vice President Nez said, "Take care of yourselves. As part of our running group's advocacy, we are also promoting health and wellness. That means we as runners try to inspire people to exercise and eat healthy food. With this run through your beautiful land, we're doing just that. We also want to show you that we care about you and support your efforts.
SUBMIT FEEDBACK
Click Below to:
More like this story