Williams upkeep: City purchases new sanitation truck
Originally Published: February 21, 2018 11:18 a.m.
They stop at your house once a week, screeching to a halt as they pick up and dump trash and recycling into the back of their large trucks, making sure all contents are safely deposited in the back before they continue to the next house.
Garbage and recycle pick up is vital to every city. Without their services, our homes, yards and community would soon be swallowed in rotting, dangerous heaps of poisonous waste.
Which is why, on average, Williams Transfer Station takes three to four large dumpsters from the transfer yard to Flagstaff each day.
Trash and recycle from Williams is delivered to Waste Management or to the Flagstaff landfill.
Jeff Pettit, foreman for the Sanitation Department at the city of Williams, said on one day last year drivers delivered $1,700 worth of trash to Waste Management in Flagstaff.
"That's how much garbage was thrown away and that's just what came through that day," he said.
The city of Williams pays a per ton rate for each load delivered to Waste Management in Flagstaff or to the Flagstaff Landfill.
On average, three to four loads are delivered to Flagstaff a day and in the summer the city can deliver up to five loads a day. Around two loads of recycle per week are also delivered to Flagstaff.
"It varies from $44 to $46 a ton, it all depends on where we take it," Pettit said. "We charge $82 (per ton) here, which covers our fuel and everything else … it's pretty crazy. You wouldn't think trash would add up like that but it does."
Upgrades at Williams Transfer Station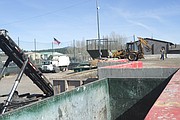 Last year the Transfer Station underwent upgrades at the yard and purchased a new garbage truck.
To help make less trips to Flagstaff each day, the Sanitation Department added three new receptacles and built concrete walls, averaging 10 feet tall and one foot thick, behind the receptacles. Trash receptacles are placed next to these concrete walls and garbage trucks line up to the walls to dump their loads on collection days. Community members also pay to dump any extra garbage at the transfer station using these receptacles.
"We've added three walls, (to help) make less trips to Flag. Before we were making four to five trips to Flag a day, now it's set up better," Pettit said. "The metal is not laying on the ground, the wood is better there (and) we're not sending a lot of people out to our burn pit and we've added one more trash area too."
Three receptacles for wood, metal and appliances and general trash were added to make a total of seven bins at the yard.
The Transfer Station also installed cameras at the yard. Pettit said the cameras were installed to help with security and safety.
"It's more for security in the office type of deal," he said. "The cameras watch the bins and (we can) tell which ones need to go to Flag."
The station's new garbage truck was ordered in July and was delivered last December. The truck, a 2018 Peterbuilt with a scorpion body side loader, was purchased for $258,000. The city has five refuse trucks and two transport trucks.
Recycling
Another important aspect of the transfer station is recycling.
Williams Transfer Station recycles paper, aluminum, tin, plastics (No. 2-7) and cardboard.
All recycling is driven to Flagstaff or Phoenix where it is sorted and recycled appropriately.
"We take it to Flag and it goes to one of two places in Flagstaff. It's all co-mingled, so it's separated in Flag or Phoenix," Pettit said. "They do all the separating and everything."
Pettit said it is more cost effective to take the recycle to Flagstaff rather than have the Transfer Station sort and ship recyclable materials.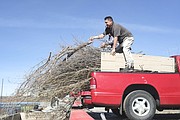 "It would be tough for us to ever get involved with that — manpower wise," he said. "They (Flagstaff) have conveyor belts and loaders that load it right on (the conveyor belt) and they have 20 to 30 guys at the top of conveyor separating it all."
Pettit said depending on which neighborhood you visit in Williams, you can see both good and bad recycling habits.
"There's certain neighborhoods that are better than others. There's one (neighborhood) where they might as well not even recycle," he said. "Jimy's route, that's Sixth Street (and going west) on both sides of town is fabulously clean."
Pettit said even though it may not seem to make a difference, recycling goes a long way in keeping our communities and country clean.
"(Recycling) helps keep it clean, from your general household garbage to your recycling you can recycle. We don't actually see it here (landfills and recycling centers) but eventually it's going to be seen coming back out somewhere else," he said. "Being that we don't have a plant here, we might not ever see it back here but at least we're trying to help out the future — do our part. I wish everybody would do their part."
The Transfer Station is open to the public for dumping. A per ton cost is charged. The yard is open five days a week, Tuesday through Saturday from 8:30 a.m. to 3:30 p.m. There are two free dump days allowed by the city. Vouchers are mailed at the beginning of the year to residents and the second day is included in the Clean and Beautiful program which takes place each fall.
SUBMIT FEEDBACK
Click Below to: