Williams Elementary-Middle School February Students of the Month
Originally Published: February 20, 2018 2:22 p.m.
Kindergarten
Elizabeth Thompson
Elizabeth's teacher said she is one of the hardest working students both in school and out. She has great focus and is almost always on task and doing the right thing.
"Elizabeth is emerging as a student leader and I can't wait to see how far she'll go."
First Grade
Jordan Barresse
Jordan's teacher said she always tries her best and is eager to complete tasks correctly. She has a polite personality and is always willing to speak out and share ideas or experiences in a group discussion.
"I have enjoyed watching Jordan grow as a first grader this year."
Second Grade
Jordan Salazar
Jordan's teacher said he always comes to school ready to learn. He is a great student and always does his best. Jordan is a good friend and always makes sure that no one is left out.
"He is a joy to have in class and I'm excited to watch him learn."
Third Grade
Brooklyn Busch
Brooklyn's teacher said she is an extremely motivated girl who has come a long way. She has worked very hard to improve and has always remained dedicated to doing her very best.
"Brooklyn has the ability to become anything she wants in the world and has the right stuff to be a great example to others."
Fourth Grade
Jaiden Rojeski
Jaiden's teacher said she is a bright young lady with excellent character. She has perfect attendance, works hard and completes all assignments with a 90 percent or better. She is polite, helpful and full of joy.
"Jaiden brings a smile to school each day which helps brighten up the entire class."
Fifth Grade
Shaleeya Bivens
Shaleeya's teacher said she has been extraordinary to work with this year. She works hard every day and never lets an assignment slip by without receiving special care and attention.
"She is a wonderful example of a student and overall, an awesome person."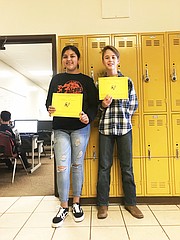 Middle School SOM
Melissa Lerma
Melissa's teacher said she is an excellent student. She never causes trouble, shows up on time and is very kind to other students. She steers clear of the drama and often helps other students to keep their grades up. She even shares her supplies with her friends when they are in need.
Middle School SOM
Jason Olson
Jason's teacher said he is an exceptional young man who stands out among his peers. He is a true leader and overall outstanding student. He is a true role model for his peers. The entire team is so proud of Jason and knows he will have an extremely successful transition to high school.
---
SUBMIT FEEDBACK
Click Below to: