Letter: Historic Photo Project underway
Originally Published: February 20, 2018 12:07 p.m.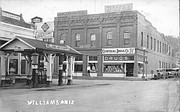 To the editor:
Exciting things are happening with the Williams Historic Photo Project. After the installation of new carpeting at the Williams Visitor Center, the photo project is rearranging the History Room to include more and different displays. New collections are continuing to come in, giving us a more in-depth view of life in Williams in the not so distant past. Our mannequin, Fred, has changed into a Mountain Man and new displays featuring the Mountain Men will be featured.
We cannot thank our volunteers enough! Mike and Kathy Benham, Linda Reynolds, Jeana Stevenson and Al Messimer have all contributed many hours to the expansion of the collection and the display. We would also like to thank Anna Dick of Grand Canyon Coffee and Café, who generously donates $50 to the project for every slice of Route 66 pie she sells. Thank you, Anna. The Historic Photo Project is largely supported by donations and grants, so every dollar counts.
During the month of March, Arizona Archeology Month, the library and the photo project is partnering with the U.S. Forest Service to present lectures, which will be held in the city council chamber on Wednesday evenings at 6 p.m. The public is invited.
We are encouraging families and businesses in Williams to share historic photos with us. We'd love to see what you have.
Andrea Dunn,
Williams Public Library and
Margaret Hangan,
Kaibab National Forest
---
SUBMIT FEEDBACK
Click Below to: