Lady Phantoms bow out of state tournament after loss to Baboquivari
Team finishes season with a 19-6 record, will say goodbye to three seniors
Originally Published: February 20, 2018 10:35 a.m.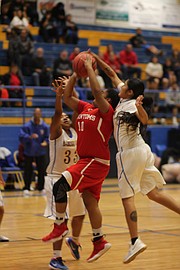 PRESCOTT, Ariz. — The Lady Phantoms' season ended Feb. 16 with a 63-45 loss to 4th-ranked Baboquivari in the first round of the state tournament. The girl's team earned its second consecutive tournament berth after several years of finishing out of the running.
The team got off to a slow start offensively, going down 18-0 in the first quarter before scoring with two minutes left in the period. The first quarter ended with a score of 20-4 in favor of the Lady Warriors, whose swarming defense kept scorers Cayli Miles and Savannah Longhoma out of the lane for much of the game.
The Lady Phantoms were outscored 2-to-1 in the second quarter to bring the score to 17-46 in the Lady Warriors' favor at the half.
The Lady Phantoms regained their footing with a scoring assault in the second half, keeping pace with the Lady Warriors in the third period and overtaking them 17-8 in the final frame. In the end, time simply ran out on the Lady Phantom's scoring run.
The season was a rollercoaster ride for the young team, which lost three seniors to injury during the later part of the season and started the tournament game with some junior varsity players in key spots. But the season also saw the continued growth of sophomore Miles and the emergence of freshman Longhoma as a force on the court.
Miles, who successfully ran a fast-paced offense throughout the season, contributed 22 points and went 3-of-5 from beyond the arc. She also went 75 percent from the free throw line and had five steals. Longhoma, who was sick during the final two games of the regular season, tossed in 16 points and hauled down 11 rebounds. Senior Meme Jeter-Nanacasia scored five points and freshman center Kara Austin scored two points and brought in nine rebounds.
It was a learning experience for Austin and others, including freshmen Alana Keebahe and Maria Dugi, who stepped up when senior team captain Monica Dimas injured her knee.
Head coach Rosie Evans said the team continued to be successful and put their best effort forward, and junior varsity players got valuable experience playing at the state level against a strong opponent.
"We are happy to celebrate each others' moments, even if that means sitting on the bench," she said.
The girls have supported each other all season long, and members of the boy's team sat in the stands behind the Lady Phantoms' basket to show their support for the team.
SUBMIT FEEDBACK
Click Below to:
More like this story