Originally Published: February 13, 2018 10:52 a.m.
WILLIAMS, Ariz. — It all began in a basement in Chicago.
Nearly 60 years ago, Rich Gorney crashed a graduation party with his high school buddy and in the process met the woman who would be his partner, who would share with him many adventures from the Midwest to the west coast and eventually to Williams, Arizona.
"Well she kept getting into trouble, so we had to move out," Rich, who is well-known for his dry-wit, joked regarding the reason he and his wife, Helen, moved around so much.
The Gorneys have made Williams their home for the past 41 years, moving here in 1977, just a few years before I-40 bypassed town.
Rich and Helen grew up in Chicago and did not know each other until the basement party.
"He went to a boy's high school and I went to a girl's high school," Helen said.
Rich said his father owned a tavern in Chicago, where he worked tending the bar. He said it was a rainy Sunday night and his buddy wanted Rich to come to the party with him. Rich asked his dad if he could go and his dad said 'yes,' relieving him of his duties.
"We went to the party, but we weren't welcome there," Rich said.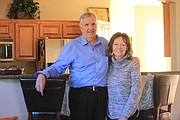 As the friends began talking of leaving, Helen walked down the stairs.
"I said I want to meet that girl, and that's how it started," he said.
Rich got Helen's number and invited her to a baseball game for their first date. She assumed it was a Cubs and White Sox game, but soon found out it was actually a game Rich was playing in.
"I needed someone to watch my dog," he joked.
Rich said he didn't like girls very much yet, but when he took Helen to that game, his opinion changed.
"She took care of my dog," he teased. "And once she took care of my dog, I knew she was a good woman."
Rich continued his education at Loyola University and Helen went to Marycrest and two years later, the duo married.
Just a few weeks before their wedding, Rich was drafted into the Army, but fortunately a senator helped him get a 30-day deferral.
"I had already sent out the invitations to the wedding," Helen said. "He was supposed to go two days before the wedding."
Rich ended up doing a short stint in the Army and then began working in sales in the pharmaceutical industry. After several years and the birth of their first daughter, Rich was transferred to Ft. Wayne, Indiana. He began working for Sara-Lee, which took them to Cincinnati, Ohio and then Huntington, California.
After the company asked him to go back to Chicago, Rich refused and began working in the food brokerage business.
Rich and Helen by this time had four daughters and spent almost every weekend travelling and camping in their motorhome. It was during these travels when the idea popped into their heads about buying a campground.
"I would see these KOAs and I told Helen that these things are gold mines, but many people don't know how to run them," he said.
The couple began looking and eventually purchased the KOA on State Route 64. They rehabilitated the campground and made it profitable for seven years, until they switched directions again and decided to build the Hotdog Corral restaurant in Williams.
Over the next few years, the Gorneys ran the restaurant and opened a catering service. They then sold the restaurant, began working as food and beverage managers at the Grand Canyon Railway, became realtors and ran Banker's Real Estate and opened an art gallery. Helen also became a professional baker.
Rich said it has been interesting to watch Williams evolve since the I-40 bypass. He said many people discouraged them from building the Hotdog Corral, which went into business just before the bypass.
"I had people come through and tell me that it was a crazy thing to do and this town is going to dry up," he said.
Rich said the first year of business at the Hotdog Corral, traffic was still routed through town. He said the heavy flow of traffic made it difficult for some people to stop and hang around town.
"[After the bypass] trucks began to stop," Rich said. "We noticed more truckers would stop and eat than before. The truckers told us that before I-40 there was so much traffic, there was no chance to park."
Helen said some businesses did close with the bypass, but she believes that several of the businesses took that time to improve, advertise and build their business.
"The good businesses got better, the weaker businesses went out of business," she said.
Besides their businesses and employment opportunities in Williams, the Gorney's have also been active as volunteers, serving on the Williams Chamber of Commerce, developing the Taste of Williams and helping with the Williams High School Booster Club.
"It's been fun here in Williams and that's why we are still here," Rich said.
Upon retiring, Helen and Rich looked at spending their winters in Rio Verde, Arizona, but have decided they would rather just stay in Williams.
"There are a lot of good people here," Rich said.
"I missed seeing people that I know," Helen said. "You go to Safeway and you know everybody in Safeway. You go to church and you know everybody in church. Down there I didn't know anybody, and it was going to be a big effort to start over with friends, so I thought I'll just keep the friends that I have."