The Art of the Proposal: Grand Canyon photographer Terri Attridge captures couples' intimate moments

Originally Published: February 13, 2018 10:44 a.m.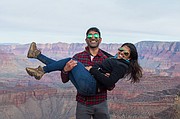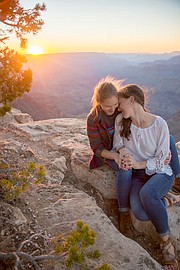 GRAND CANYON, Ariz. — From sunrise to sunset, whether it's sunny or cloudy, windy or calm, Grand Canyon resident and photographer Terri Attridge said there is no such thing as a bad time to take a photo at the Arizona's wonder — especially if those photos happen to be of the exact moment you pop the question to your significant other.
According to Wedding Wire, Valentine's Day is the second most popular day to get engaged, just behind Christmas. In fact, about 17 percent of all proposals happen between the months of November and February. Considered the off-season at Grand Canyon National Park, couples are likely to see fewer crowds and find the perfect moment and viewpoint for that all-important question.
It's that single moment, sometimes lasting only a few seconds, that Attridge strives to capture for her clients. She works with natural light and the environment — no cumbersome lighting equipment or reflector screens — to create a picture-perfect memory of excitement against the backdrop of one of the grandest places on earth.
"It's all about the organic moment, capturing what is unfolding between these two people, and less about the scenery," she said.
Attridge said the majority of her clients are surprising their partners, and she does her best to blend into the background and click away through all of the screaming, crying and excitement. She works with her clients beforehand, suggesting places, times and positioning to allow her to capture every hair blowing in the wind to facial expressions worth more than a thousand words.
It's not always a complete surprise.
"Because some people just aren't good secret keepers," she said.
Or they knew a proposal was coming. It is, however, a different, unique moment for each couple.
"Some of them are just really shocked by the ring itself, because they maybe weren't expecting something like that," Attridge said.
While most of the engagements are on-the-spot affairs, Attridge recalls one engagement in which the proposer wanted her to set up a large "Will you marry me?" sign on the rim.
"He and his girlfriend were on a birding trip," she explained. "He asked me if he could mail me a big tri-fold presentation board to bungee just below the rim. He was then going to point out a bird have his girlfriend look through her binoculars to see the sign. So I took this sign out and attached it to the rim — it was really windy. I went back to my camera and noticed that part of the sign had blown away. When she looked at the sign, it still said "Marry Me," so everything worked out okay."
For any couples considering planning an impromptu engagement at the Grand Canyon, Attridge said season and time of day don't really matter, but she does suggest planning for about an hour before sunset or around seven minutes prior to sunrise to get the best lighting.
And while she can suggest locations and positioning, Attridge said sometimes things just happen, and the proposer may have to improvise.
"On one of the shoots I just finished, the guy saw some people standing where I had suggested he stand, and he didn't really know what to do, so he just did it right there in the middle of all the people," she said. "It was nice because I was able to capture the reaction of all the people around them as it was happening. You can see that they're all excited for this couple."
Attridge said she does her best to work around visitors to create beautiful experiences for couples, but it's important to remember that the park is for everyone, not a private photo studio.
After the initial moment has passed, she does a portrait session with the couple to celebrate the occasion.
Attridge keeps her best photo spots close to the vest — they're part of what sets her art apart from everyone else's — but she said for those considering a proposal with or without a photographer present, Lipan Point is a good option.
Attridge moved to the Grand Canyon from New Jersey nine years ago, and in addition to operating her photography business, Photography by Terri, she also works as a photographer and social media director for the Grand Canyon Association, the park's official non-profit partner. She has always been interested in portrait photography and worked in a portrait studio in New Jersey for several years prior to moving to Arizona.
More information or photos of Attridge's work is available at www.photographybyterri.com or on Facebook at https://www.facebook.com/photographybyTerriAttridge.
SUBMIT FEEDBACK
Click Below to:
More like this story