Arson suspected in early morning blaze at Newpac Fibre Mill
Originally Published: February 13, 2018 11:07 a.m.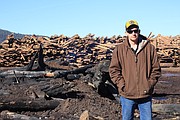 WILLIAMS, Ariz. — Arson is suspected in an early morning fire Feb. 5 at Newpac Fibre in Garland Prairie.
"The reason we're calling it an arson is because you have a pile of green logs set on fire and green logs don't catch on fire. We're sure that there's suspicious circumstances surrounding the fire," said Williams Police Chief Herman Nixon.
Mark Chamberlain, manager at Newpac Fibre also known as Grand Canyon Forest Products, arrived at the mill around 5:45 a.m. and said the log deck area was in flames.
"I came in about a quarter til 6 on Monday morning and one of the green log decks was on fire," he said. "So (that's) pretty suspicious, I'm assuming it had some help."
According to Chamberlain, a nearby resident saw the flames and notified a mill employee, who lives onsite.
Williams Volunteer Fire Department was dispatched at 4:53 a.m. and arrived at the mill at 5:10 a.m. Around 20,000 gallons of water were used on the blaze. Eight firefighters from Williams Fire responded with two engines and a water tender, and Sherwood Forest Fire Department responded with two water tenders.
Williams Fire Chief Chase Pearson said upon arrival a pile of large diameter logs were burning.
"It was in a T-shape configuration and in the center of the T was where the fire was and was most intense," he said. "It was burning pretty good when we showed up."
Logs that had not been damaged were being moved using the mill's heavy equipment and the pile was broken up to help extinguish the blaze.
"(WFD) was putting water on it, we have onsite water … but it really wasn't having an effect because it's such a large fuel source," Chamberlain said. "What we ended up doing was getting the equipment and cutting it off from the rest of the log deck so just what is there could burn."
In the days afterward, mill employees laid out the burnt logs and doused them with buckets of water. Some of the burned area smoldered for days.
The mill lost around 10 truckloads of logs worth thousands of dollars in revenue, according to Chamberlain and mill owner Rohit Tripathi.
"This is not (just) a fire and wood losses that I have, the guy who did it wanted everything to be burned down," Tripathi said.
Tripathi is concerned and said his company is working with police as they investigate the arson.
"This is a big issue here because if it had been a bigger fire it could have burned an entire neighborhood. That's a criminal case," he said.
"This is not productive," Tripathi added. "There's plenty of wood for everybody,. Why would you have to put us out of business to have your business? We need to find out who (set) the fire so we can go after those people."
Because of the amount of water used to extinguish the blaze, Nixon said they have yet to find evidence of the cause of the fire. The police department and Williams Fire Department are coordinating the investigation.
"Any evidence they found was destroyed, so until someone comes forward and talks about this we're pretty done with the case. Because there's nothing we can do with it at this point," Nixon said.
However, a potential witness is being sought by Williams Police.
"We're looking to find that individual and talk to him," Nixon said. "Once we talk to that individual we'll know which direction we need to go."
The logs lost in the mill were from the Shiner Timber Sale, south of Williams.
The mill was closed for a week following the fire.
Forest Partners
Currently the mill is partners with The Nature Conservancy (TNC), a non-profit organization that works with the U.S. Forest Service to thin thousands of acres in Arizona. TNC is taking on 20,000 acres over the course of 10 years, according to the Forest Service. As of today, TNC has six sub projects totaling 13,000 acres and they're actively working on two of those — the Chimney Springs Project north of Flagstaff and the Clover project near Williams.
Grand Canyon Forest Products recently worked with TNC on the Chimney Springs Project.
Despite some recent controversy, Tripathi said his partnership with The Nature Conservancy is moving forward.
Tripathi said this partnership will eventually include more forest management.

"The goal here is to partner with them in technology and become more involved in forest management with them," he said. "So not only the saw mill side but technology side. We have built our own trucking path to optimize forest operations."
According to Chamberlain, the quality of timber the mill is getting from sales has made production a challenge.
"We try to be selective of what we bring in here but at the same time you have the Forest Service and loggers and they can't send us three out of every 10 trees they cut down. We have to do something with the rest of it and that's what I think the biggest hurdle has been in this whole thing," Chamberlain said.
"The cost of trucking makes it hard to haul very far," he added.
On average the mill processes around one-thousand logs a day, which Chamberlain said equates to around 50,000 board feet.
Tripathi has plans to increase production at the mill, which includes a new saw with a more automated line. He said he plans to bring this online next month and said this should double the mill's production.
Other mill issues
The mill has had other issues arise in the last few months.
Earlier this year, the city of Williams investigated a potential hazardous waste spill at the mill.
Tim Pettit, chief building inspector and nuisance abatement officer for the city of Williams investigated the claim on two different occasions but said he found no evidence of a spill.
"I found nothing — where would you begin on all this property?" Pettit said. "So then I came back and told John (Moore, mayor of Williams) the guy needs to be a little more specific, tell me where I need to look, where it's at because they (the mill) could have saw dust on it and I never would have seen it unless I knew."
Following the complaint and investigation by the city, Chamberlain had Safety-Kleen, a Phoenix based company specializing in disposal and recycling of hazardous fluids, visit the mill to ensure they were not in violation.
Pettit said if he had found a spill, he would have reported it to the Environmental Protection Agency (EPA).
Chamberlain said OSHA (Occupational Safety and Health Administration) has visited the mill once since he started last September. Several minor issues were reported and fixed — a chain guard needed to be installed and a tripping hazard had to be fixed.
Nixson said the police department has not responded to any recent complaints at the mill.
He said the fire investigation is pending and is asking for any witnesses or anyone with information to come forward.
Anyone with any information can call Detective Jerry Wilson at the Williams Police Department at (928) 635-4461. Anonymous tips can be left at any time at (928) 635-5992. Those who want to report a crime while remaining anonymous can also call Silent Witness at (928) 774-6111 or (877) 29-CRIME. Silent Witness offers rewards of as much as $1,000 for information that leads to an arrest.
More like this story
SUBMIT FEEDBACK
Click Below to: