Justin Lee Richardson disappeared from the Grand Canyon area in 2001 and has never been found
Missing but not forgotten
Originally Published: February 6, 2018 10:35 a.m.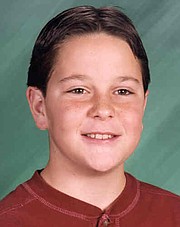 GRAND CANYON, Ariz. — Even in large, rural swaths of Coconino County surrounding the Grand Canyon and the town of Tusayan, the Coconino County Sheriff's Department (CCSO) prides itself on being able to recover missing children quickly, whether they are runaways, victims of abduction or simply get lost.
As of now, there is one unsolved missing child case in the county, and that's Justin Richardson, who went missing in 2001 in the Kaibab National Forest a few miles outside the communities of Tusayan and Grand Canyon. He was 13 years old.
According to reports, Richardson entered the forest about five miles west of the former Moqui Lodge, which has since been torn down. He was with three male friends at the time, all of them between the ages of 18 and 21. Authorities believe he went into the forest with the men with the intention of using drugs — there was evidence he had been using drugs and alcohol for about a year prior to his disappearance.
While in the forest, Justin and one of the men became separated from the other two. The man with Justin hiked out of the forest alone to Tusayan, where he asked for help locating the other two men before returning to the forest to look for them. During this time, authorities said the missing men had followed the railroad tracks back toward Williams – they had been located by Grand Canyon Railway employees about 15 miles south of Tusayan, although Richardson wasn't aware of this.
Around 9 a.m., authorities said, the man searching with Justin came down off of methamphetamines and a fell asleep in the forest. When he awoke several hours later, he said, Justin was gone. The man was able to make his way to a dirt road, where he hitched a ride back to Tusayan.
He didn't, however, report Justin missing.
Justin was reported missing by his family July 2, three days after he initially disappeared. Justin lived with his father in Tusayan, while his mother lived in Flagstaff. Recalling the case, CCSO Commander Rex Gilliland said Justin had been a popular boy and was well-liked, and he pretty much came and went as he pleased at his father's home.
He had run away before, in fact, and authorities at the time explored the possibility that Justin could have taken the opportunity to do so again, hitchhiking out of town — he had a girlfriend in Chicago he had been wanting to see.
Unfortunately, Gilliland says the department now feels that Justin was probably a victim of homicide, killed in the forest around the time he went missing.
Ultimately, around 64 miles of forest was searched on foot, horseback and with helicopters. Nothing was found.
Capt. Terry Lawson, who worked the case at the time, pointed out that it would have been difficult for Justin to become lost for very long. He had been in the area several times before and had knowledge of the terrain. Helicopters constantly criss-cross the skies above the area, Lawson said at the time, and Justin would have known he could follow them back to Tusayan.
Lawson also said there were numerous landmarks in the area, and a local resident like Justin would have known there were many fences, power lines and well-traveled dirt roads, as well as railroad tracks, he could have used to make his way back to town.
After interviewing the men with Justin the day he disappeared, authorities at the time ruled out foul play, although they continue to keep track of persons of interest in the case more than 15 years later. One of the men is deceased, although that incident doesn't appear to be related to Justin's case.
With limited water supply and no food, Justin wouldn't have survived more than a week or so.
In 2014, Justin's case was turned over to the cold case unit, which uncovered evidence that he did in fact return to Moqui Lodge after he was last seen, although they declined to say what the evidence was.
He is no longer considered a runaway, given the amount of time that has passed without any family contact, sightings or law enforcement contact.
The CCSO cold case unit believes some unidentified person in the area may have important information. Anyone with information is encouraged to contact the CCSO cold case division at (928) 774-4523.
SUBMIT FEEDBACK
Click Below to: