Are there opioid problems in Williams?
Originally Published: February 6, 2018 1:11 p.m.
Much has been written to address what is now universally accepted to be a national crisis as the number of deaths annually have risen because of the abuse of opioid painkillers.
According to the CDC, nearly 64,000 Americans died from drug overdoses in 2016, up from 18,000 in 2000. Among those deaths, 66 percent or 42,429 involved opioids.
Deaths related to synthetic opioids have more than doubled as they went from less than 9,580 in 2015 to nearly 20,000 in 2016.
The crisis has risen to epic proportions in Arizona, which had 790 opioid deaths in 2016, a 16 percent jump over 2015 and a 74 percent jump over 2012. These figures include 482 deaths from prescription opioids and 308 from heroin.
Because of the disturbing trend, Arizona Gov. Doug Ducey declared the state's opioid addiction a health emergency in June 2017.
"As the number of opioid overdoses and deaths increase at an alarming rate, we must take action. It's time to call this what it is — an emergency," said Ducey in a press release.
Following the June executive order that included requiring enhanced data reporting of opioid overdoses, ADHS in September released its Opioid Action Plan, a comprehensive strategy that includes twelve recommendations to reduce illicit acquisition and diversion of opioids, promote safe prescribing and dispensing, improve access to treatment and wider distribution of the overdose reversal drug naloxone.
On Jan. 26, Ducey also signed legislation that limits initial opioid prescriptions to five days and set a maximum of 30 days for certain patients receiving highly addictive painkillers. Another measure called for $10 million to be spent treating opioid abusers who are underinsured or ineligible for Medicaid coverage.
Coconino County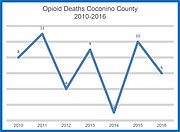 Despite the dire opioid crisis in the nation and Arizona, deaths from opioids in Coconino County have not increased since 2010 according to a report released by Coconino County Public Health Services District in June 2017.
Between 2010 and 2016, there were 49 opioid deaths among Coconino County residents. The yearly death rate has bounced between eight in 2010, to nine in 2013 and six in 2016.
Over that period of time, 88 percent of opioid related deaths involved a prescription medication and 12 percent involved heroin.
When compared to other counties in the state, Coconino County ranked 12th out of 15 counties for opioid deaths in 2016.
The report found that young to middle-aged adults were at the highest risk, with most deaths among 30-39 year olds.
When looking at all poisoning deaths, which include drug, alcohol and other chemical poisons, opioids are a small proportion. Alcohol poisoning still tops the charts, claiming 67 percent of all drug poisonings, followed by 18 percent by non-opioid drugs and 15 percent by opioids.
One concern for the county, however, is the 285 percent rise in emergency department visits and hospitalizations related to opioid use from 2010 to 2016.
In 2010, 111 people came to the ER for opioid problems and 60 of those required hospitalization. In 2016, 305 people came to the ER, and 183 required hospitalization. This includes opioid poisoning, abuse and dependency.
White men and women visited the ER or were hospitalized the most, but the ethnic group with the largest increase between 2011 and 2015 were Native Americans, which jumped 316 percent for females and 653 percent for males.
Williams
In Williams, data for opioid overdoses is difficult to come by.
"I don't have any incidents where it was a confirmed opioid overdose," said Williams Police Department Lieutenant Daryl Hixon.
According to Life Line Ambulance, EMTs and paramedics responded to three suspected opioid overdoses in the Williams area in 2017.
Data from Williams Police show 71 drug offenses between 2015-2017.
Hixon said although Williams has seen little opioid abuse, it does have other drug problems like many Arizona towns.
Of the 71 incidents, 57 were marijuana offenses and possession of drug paraphernalia.
"Our main drugs are marijuana and methamphetamines," he said. "There is heroin and I'm sure we have opioids, but we don't come across it much here."
Hixon said it is difficult for Williams Police to make big drug busts in Williams since most officers are well-known in town.
"When we do have something big we usually turn it over to Metro or some sort of drug team with DPS (Arizona Department of Public Safety)," Hixon said.
Hixon said drugs are transported on I-40, which cuts through Williams, but the interstate falls under DPS jurisdiction.
"I-40 is a drug corridor —west bound is the money, east bound is the drugs," Hixon said. "Nobody is stopping in Williams though, no one is dropping off the mother lode here."
SUBMIT FEEDBACK
Click Below to: