Fire stations in critical condition; local departments seek volunteers
Lack of volunteers leaves Williams fire departments stretched to provide essential services
Originally Published: August 14, 2018 12:27 p.m.
WILLIAMS, Ariz. — High Country Fire and Rescue and Williams Volunteer Fire Department are two of the more than 19,762 volunteer fire departments in the U.S. looking to fill their ranks with volunteers.
According to the National Volunteer Fire Council (NVFC), volunteers comprise 70 percent of firefighters in the U.S. meaning 814,800 of the one million firefighters across the U.S. are volunteers.
"Volunteerism, especially in the fire service, has (seen) a progressive decrease over the years of the number of people willing to volunteer in these kinds of settings," said John Moede, assistant fire chief at Williams Volunteer Fire Department.
Filling staffing needs is a constant battle especially when the department is maintained only by volunteers.
According to NVFC, the number of volunteer firefighters in the U.S. reached an all-time low in 2011. While there has been a slow increase since then, the growth isn't enough to meet the steady increase in call volume, which has tripled in the last 30 years due in large part to the increase in emergency medical calls. Major factors contributing to recruitment challenges include increased time demands, more rigorous training requirements and the proliferation of two‐income families whose members do not have time to volunteer. Fire departments today are also expected to provide a wide range of services and multi‐hazard response, creating further challenges for resource‐constrained departments, according to an NVFC fact sheet.
Robert Trotter, fire chief of High Country Fire and Rescue, a non-profit volunteer fire department located near Red Lake, faces similar challenges when seeking volunteers.
"We are always looking for volunteers," he said.
Trotter said volunteers do not need to have experience in firefighting and said the department will provide training.
High Country covers approximately 300 square miles between Williams and Valle, including Highway 64 and parts of Highway 180. High Country responds to 235-250 calls annually. They have responded to 139 calls in 2018.
The department has 12 volunteers with nine trained as EMTs. It operates annually on a $30,000 budget.
Since High Country is not a fire district, it functions with donations and subscription fees from residents in its call area. In 2015, the department pushed but failed to become a district. However, the department provides all the fire services of a fire district. It does so with donations instead of tax dollars.
One of the biggest challenges for many volunteers is the time commitment.
"It is time consuming," Trotter said. "I don't expect all of my volunteers to go on every single call but the training and everything else is very, very time consuming. Usually we can tell if someone is going to volunteer. Those are the people who show up for every call for the first three or four months. They become excellent volunteers."
Williams Fire Department coverage area includes everything within the city limits. They also respond as far east as Bellemont and west to Ash Fork. Moede said their partnerships with other departments is paramount and includes assisting High Country, Junipine and Sherwood Forest Fire Deparments.
"Sherwood (Forest) is huge for us because they have water tenders," Moede said. "That is the meat and potatoes of firefighting in northern Arizona. As soon as you leave the city there are no fire hydrants."
Williams Fire Department has 10 firefighting apparatuses and 23 volunteers, although Moede said not all volunteers are able to respond to each incident.
As a municipal department, Williams Fire is funded by the city of Williams and through fundraising initiatives and grants.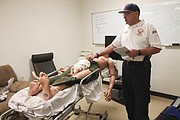 Both Williams and High Country have similar qualifications for volunteering, with the exception of Williams Fire allowing volunteers as young as 16-years-old and High Country asks its volunteers to be 18 years or older.
Additional requirements include having a clean driving record and no felony charges.
"If they've had a misdemeanor driving offense that's fine as long as they have a valid driver's license now," Trotter said.
"One of the things we are really working hard on is developing good driver training programs," Moede said. "If you're driving a rig you should know how to drive that rig and do it in a safe manner."
Both departments conduct background checks on all volunteers. A physical fitness test is not required but volunteers should be able to keep up with the rigors of the job.

Older volunteers should consider any heart or lung restrictions, Trotter said.
Anyone with prior firefighting experience is a huge bonus for both departments. Medical experience is not required — most departments provide training, although training varies from station to station.
"If they're not an EMT we will train them on what is called EMR — Emergency Medical Responder," Trotter said. "That's basic — they will do vitals, control bleeding — it's a step up from having a CPR card and first aid."
Those undergoing EMR training should prepare to take a 38-hour course, which is done in-house with a certified trainer. All new volunteers at High Country also go through a three month training process to learn about the equipment, how to use it, how to pull hose, fire and how to make proper entry into structures.
Moede said Williams Fire will send volunteers to EMT training.
Another volunteer area is being a support member.
"We have five support members on our department right now," Moede said.
Support members help in administration, logistics, securing funding, maintenance and other aspects of the department's day-to-day operations.
"We understand it's a volunteer fire department — family and your job comes first," Trotter said.
Mental preparations
Trotter said those interested in becoming a volunteer firefighter should prepare mentally for the position.
"They have to remember that when we respond — whether that be medical aid, traffic accident or structure fire, you're going to see people at their worst," he said. "It's going to be mass chaos and one of your jobs it to take control of the situation, calm it down and provide medical and any other service that you can to help the people."
Trotter said the department can provide access to counselors if necessary.
"It's not like on TV where you're on scene for 10 minutes and the house fire is gone and we've rescued 15 people from this 10-story building and you're back at the fire station joking and laughing," he said. "You're going to be on-scene, especially some of these bad scenes, for six to eight hours."
Why volunteer?
Trotter said firefighter volunteers are dedicated and at the end of the day, even without a paycheck — it is worth it.
"When someone turns to you and says, 'thank you for putting out my fire' or 'thank you for helping my family member in a car accident' or the victim themselves looks up at you and says, 'thank you, you made me feel a whole lot better,' that feeling you get when you help your fellow man is fulfilling. It's worth it in the long run," he said.
More information about volunteering is available from High Country Fire at (928) 635-9988 or from Williams Volunteer Fire Department at jmoede@williamsaz.gov.
SUBMIT FEEDBACK
Click Below to:
More like this story