Maswik South to get much-needed facelift
Originally Published: August 7, 2018 10:54 a.m.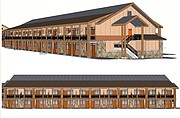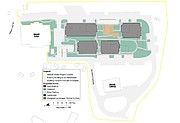 GRAND CANYON, Ariz. — New buildings, new amenities and a fresh style update are headed for the southern block of guest rooms at Maswik Lodge.
Prefabricated buildings assembled onsite in 1971, the six buildings that will be replaced in the rebuild have outlived their useful lifespan, according to Debbie Drews, Xanterra's consultant and construction manager for the project. Drews said the new project will consist of four larger buildings, which will include amenities guests have come to expect in modern times, such as air conditioning and kitchenettes.
According to Drews, the project will be a complete rebuild and will cost around $20 million. The current buildings, as well as the infrastructure around them, such as sidewalks and thru-roads, are falling into disrepair. They're also not up to modern building codes or compliant with the Americans with Disabilities Act (ADA), Drews said.
"(The new buildings) will all be totally code-compliant and upgraded, so you won't really be able to compare it to what's here now," she said. "It'll be a much better guest experience."
As for the price point, which is often a major factor when choosing lodging, Drews said it will remain close, but will rise a little in conjunction with all the new amenities. Doug Lentz, chief of commercial services for the park, said a comparability survey would be done with other accommodations in the area to help determine a competitive price point.
Drews said Xanterra South Rim, which will be undertaking the construction and its associated costs as part of their contract with the National Park Service, is dedicated to using green building practices and construction materials during the rebuild.
"The old buildings are not energy efficient and they're not well-insulated," she said. "The new buildings will be much more energy efficient."
Sustainability is a major factor in the redesign, in regards to both maintenance and the materials used in the construction.
Drews said the new building will meet LEED (Leadership in Energy Efficiency and Design) gold standards, meaning it will be highly energy efficient and well-insulated with efficient mechanical systems and water conservation features. Some of the construction materials will be recycled and sustainably sourced, such as fly-ash concrete, recycled carpet and sustainably-sourced lumber. Underlying rock from the site will be crushed onsite and used as a sub-base for buildings and roads.
Drews said the project is currently a little more than halfway through the design documentation. She said Xanterra and the NPS is going through a review process to look through all the designs to make sure they meet the needs and desires of both parties. That means if something is unsuitable, it can be changed before any major construction takes place.
"We look at the designs in detail … we look at what we will be providing the guests and as experience, how we're going to operate the buildings and what the cost is," she said. "We look at the actual construction cost as well as the long-term maintenance of the property."
The project is slated to begin with demolition Jan. 2, 2019.
Along with new buildings, NPS NEPA compliance officer Zachary Kresl said other aspects of the complex will be rearranged to allow for better traffic flow and guest safety.
NPS is looking to construct two new sections of road — about half a mile, total — in the vicinity of Maswik South to provide an alternate route from Grand Canyon Village to Rowe Well Road and reduce traffic at Maswik South.
"The majority of any traffic going to or coming from Rowe Well Road goes through the complex, so you have a bunch of traffic introduced in a pretty heavy visitor use area," Kresl said.
The new design for the area will include a better-staged parking area for guests and visitors and will minimize pedestrian-traffic interactions around the lodge.
The project is currently undergoing the NEPA process. NPS is oing through public scoping comments provided by community members and visitors and is looking to complete a draft Environmental Assessment (EA) by fall 2018.
The EA will be available for public review this fall. NPS will then analyze those public comments and issue a decision statement by the end of the year.
SUBMIT FEEDBACK
Click Below to: