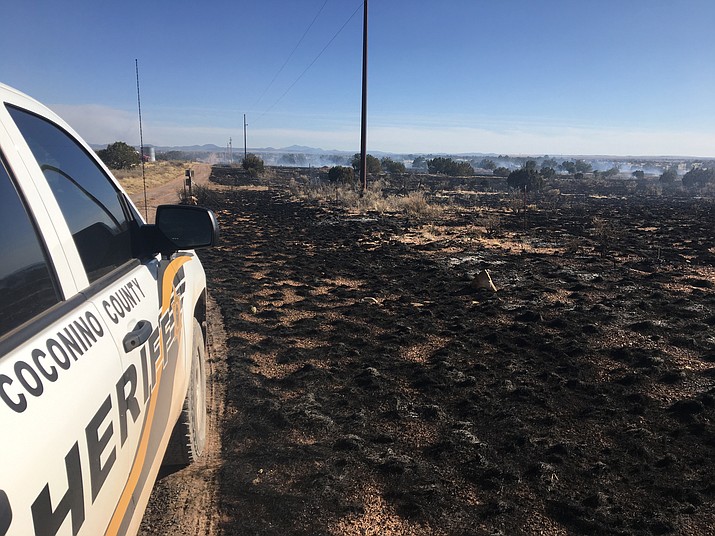 Originally Published: April 24, 2018 9:35 a.m.
April 23, 8:52 pm update on Valle Fire:
As of 7:30 pm the evacuation order for the Indian Meadows Fire/Lateral Fire was lifted by the Coconino County Sheriff's Office. All residents will be allowed back into their homes.
Current investigation indicates the fire was started by a resident of Woodland Ranch Road who was burning yard trimmings when the fire went out of control. Updated information shows the fire burned approximately 100 acres, one unoccupied residential structure, multiple vehicles and several out buildings.
Fire and Law enforcement units will continue to work and investigate throughout the night and into the morning. Coconino County Emergency Management along with the American Red Cross have set up a shelter for those displaced from their homes in Williams Arizona at 636 S. 7th Street.
7:04 p.m. update:
The Indian Meadow Fire is now reportedly at 80 acres with multiple agencies working on the scene with air support. Two helicopters, including a DPS helicopter, are helping approximately 50 ground crews.
There is a temporary reception center set-up at the Valle Airport for those who have been evacuated.
Fore those that have large animals, a reception area has also been set-up at the Williams Rodeo Grounds. Anyone wishing to board their animals should call the Williams Police Department.
According to Tiffany Davila of Arizona Department of Forestry and Fire Management, fire crews were able to move the fire away from the homes it was threatening. The fire started as a structure fire that turned into a wildland fire. Initial reports said the fire was a debris burn, but fire investigators have not determined the cause the blaze.
The fire is now at 80 acres and crews are making good progress. Two helicopters are helping ground crews, including a DPS ship.
Original story:
On April 23 at approximately 2 p.m., the Coconino County Sheriff's Office issued evacuation warnings for the Woodland Ranch Area near Valle Arizona due to a wild fire.
Coconino County Sheriff Deputies responded to the Woodlands Ranch Rd area in response to a wildland fire call. A Code Red evacuation warning has been issued for a one-mile radius of the Woodland Ranch Road area and a pre-evacuation for an extended area five miles beyond that . At this time reports of structure loss have been reported.
More like this story