Historic Yellow House making a difference to promote wildlife habitat
National Wildlife Federation certifies new wildlife habitat at Historic Yellow House
Originally Published: April 17, 2018 9:51 a.m.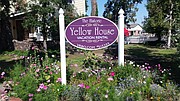 WILLIAMS, Ariz. — The National Wildlife Federation (NWF), America's largest wildlife conservation and education organization, is pleased to announce that the Historic Yellow House has successfully created a Certified Wildlife Habitat through its Garden for Wildlife program.

Additionally, the Historic Yellow House has been co-certified with NWF's state affiliate, the Arizona Wildlife Federation.
NWF celebrates these efforts to create a garden that improves habitat for birds, butterflies, frogs and other wildlife by providing essential elements needed by all wildlife-natural food sources, clean water, cover and places to raise young.
Kerry-Lynn Moede, owner of the Historic Yellow House first heard about NWF on Facebook and followed up with online research to find the criteria for becoming a wildlife habitat.
"It was super, super easy …. I overqualified," she laughed.
After going through the checklist to ensure she had a habitat that was friendly to animals and insects Moede said she paid $20 to the organization for them to review and accept her application.
"The design of the program, from the way I understand it, is not so much to be declared a habitat but to increase awareness of what you can do in your area — whether it's a porch or a patio, what can you do to help wildlife."
This Certified Wildlife Habitat garden is now also part of the Million Pollinator Garden Challenge, a national effort to create a million gardens that provide habitat for declining pollinator insects, like butterflies and bees.
Moede said her goal with belonging to the program is to increase knowledge and awareness about how to do a better job for wildlife habitat.
"And (it's about) increasing my own education, hopefully that's what it's doing for other people too. Like finding plants that are beneficial. Where I would have pulled all my dandelions the minute I saw them, before, now I know to let them stay around because bees really like those," Moede said.
Moede said Williams' residents have it much easier than most larger towns or cities because of the large amount of natural places in northern Arizona.
"Over the last 40 years, more than 200,000 wildlife gardeners have joined NWF's Garden for Wildlife movement and these individuals have helped restore wildlife habitats right in their own yards and neighborhoods," said David Mizejewski, naturalist for the National Wildlife Federation.
"Whether you garden in a suburban yard, an apartment balcony or a 10-acre farm, a school yard or a business park, everyone can create a home for local wildlife. Turning your space into a Certified Wildlife Habitat is fun, easy and makes a real difference for neighborhood wildlife," he added.
The Historic Yellow House also has the distinction of being listed on the National Register of Historic Places by the Secretary of the Interior. This was just another way the owners have worked to care for and protect the property for the future. Moede encourages others to participate in the NWF's program and offers assistance to anyone confused about the process.

"It's really easy if you go on the website and look up (NWF's information)," she said. "If anybody has any questions or is confused about how to do it, I'm perfectly willing to help people because that would increase the habitat in our area."
More information is available from Moede at www.HistoricYellowHouse.com. Moede will also host a garden and home tour and sale May 26 from 9 a.m. – 1 p.m.
SUBMIT FEEDBACK
Click Below to:
More like this story