Girl Scout cookie sales bring in $14,542 to finance troop activities
Originally Published: April 17, 2018 10:33 a.m.
WILLIAMS, Ariz. — It's more than a fundraiser, it's a business, the business of selling cookies and Williams Girl Scout Troop 2616 are savvy business women.
This year the troop sold a total of $14,542 in Girl Scout cookies.
"People see it as a fundraiser but it actually is a business for girls," said Karin Little, a troop leader in Williams. "So we'll analyze what we sold and we'll talk about what we should order next year and how we should sell our product. So, this really is a tremendous fundraiser or business for the girls."
Little said one question many people ask when purchasing cookies is what the money goes to and if it is going back to the local troop.
"Very little of the money for cookie sales goes to the business of cookies. Most of the money goes back to our troop or Girl Scouts in general," Little explained.
She said $2,562.30 of this year's sales went directly into the troop's bank account. This money is then used to purchase new uniforms and will go toward registration fees, activities and will help to pay for future camping trips.
"So basically we fund ourselves through cookie sales."
One thing the troop is particularly excited about is being able to go on troop camping trips.
This year, most of the girls in Troop 2616 are around 10 years old and are a Brownie troop. Next year, as Juniors they will be able to go on troop camping trips.
They are the only Girl Scout Troop in Williams and this is an advantage when it comes to cookie sales and local support.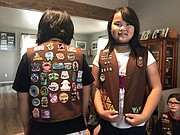 "We really are the only Girl Scout troop in Williams and the community really supports the Girl Scouts. I can't tell you how pleased we are with the amount of sales that we have," Little said.
According to Little, sales for the troop were up this year. She attributes this to having more girls registered in the program. They had eight girls in 2017 and 12 girls this year.
The Girl Scouts said they enjoyed selling cookies and talking to many community members and visitors.
Samara said her favorite part of selling cookies was getting to see new faces.

"I was able to meet new people," she said. "Sometimes I see them again."
Samara said the troop sold cookies at stores and businesses around Williams and because it was cold outside when they sold their cookies, they were able to set up tables inside, which she thought was nice.
"It was super cold," she said.
"We even got a patch that said, 'we froze our cookies off,'" Anna Little added.
Each girl is allotted a certain amount of cookies to sell. The girls sell to people they know and at various businesses around Williams including Safeway, Old Trails True Value, National Bank of Arizona and Loves Travel Stop. They also had a booth at Parks Feed in Mercantile in Parks.
"It was really a tremendous support," Little said.
Sales lasted seven weeks from late January through the beginning of March.

Thin Mint cookies were the top selling Girl Scout cookie this year. Little said there was even a national shortage of Thin Mints.
"I think we sell as much Thin Mint and Samoas as we do all the other cookies — there are eight flavors," Little said.
Other favorites were Samoas and TreFoils.
About Girl Scouts of America
There are 1.8 million girls and 800,000 adults registered in the Girl Scouts. The organization's goal is to build girls of courage, confidence and character, who make the world a better place.
Girl Scouts started more than 100 years ago, on March 12, 1912, in Savannah, Georgia by Juliette Gordon.
SUBMIT FEEDBACK
Click Below to:
More like this story