Blue pinwheels give voice to children who have died from abuse
Originally Published: April 10, 2018 11:12 a.m.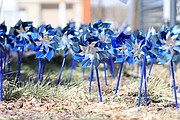 WILLIAMS, Ariz. — April is National Child Abuse Prevention Awareness Month and North Country HealthCare is going blue for kids.

The clinic is part of the Pinwheels for Hope campaign to shed light on child abuse in Arizona.
Throughout April, the clinic will have a corner of its property covered in pinwheels to represent the 82 children who died from abuse in Arizona in 2017.
The pinwheels also symbolize hope — the hope that every child will have a healthy, carefree and happy childhood.
Linda Taranto, a family health advocate at North Country HealthCare and volunteer with the Child Abuse Prevention Council (CAP), organizes the Pinwheels for Hope campaign in Williams in partnership with the Coconino Coalition for Children and Youth.
"We want to bring awareness to the community" Taranto said. "Every year there are so many children who die at the hands of someone who is an abuser."
Taranto said the first step in changing the perception of child abuse is to talk about it. She said having conversations are important for social change. Many people feel that child maltreatment cannot be changed or controlled.
"It's really a problem and we're just trying to bring awareness to people," she said.
Taranto said the pinwheels are a visual reminder of children who have died from abuse. She said if every adult paid attention to the children in their own neighborhood, or the kids in their children's classrooms, there could be a safety net that covers the community.
Why it matters
Between Oct.1, 2016 and March 31, 2017, the Child Abuse Hotline of the Arizona Department of Child Safety (DCS) received 23,579 calls reported suspected child abuse.

From those calls, 407 were in Coconino County. Of that number, 69 percent were for neglect, 26 percent for physical abuse, 4 percent for sexual abuse and .5 percent for emotional abuse. Of those reports, 57 children were removed from their homes.
The 82 children who died from abuse or neglect in Arizona in 2016 is a 16 percent increase since 2011, according to a report by the Arizona Department of Health Services.
Most of those, 80 percent, died from neglect and 77 percent of those children were 4 years of age or younger. Of those maltreatment deaths, 58 percent had substance use as a factor.
What you can do
Taranto said the clinic has resources available to help parents deal with the stresses of parenting. She said CAP seeks grants to host classes to help parents. One class is an active parenting class at Williams-Elementary Middle School that meets every Friday.
"It's called Embrace the Joy of Parenting," she said. "It's a place a parent can go to learn what to do when your baby is screaming at three in the morning and you're tired and you have to go to work the next day."
Studies have found that parent training can improve developmental outcomes for children. A 2009 study by Brookings Institution found parent training can help reduce child abuse and neglect, especially when the training is embedded in a broader community campaign.
North Country HealthCare can also link parents to other resources, such as health care programs like AHCCCS, nutritional programs like SNAP and other county and state social services.
DCS and the Prevention Council offer a list of ways the public can help:
Reach out to parents you know and offer your help or support;
Volunteer at programs that help parents;
Get to know the children in your life who can depend on you;
Advocate for essential community services for families;
Become a foster parent;
Encourage a young parent to attend the Active Parenting class at Williams Elementary-Middle School every Friday from 4 p.m. to 5 p.m. for support and encouragement and
Suspected abuse or neglect by parents or caregivers can be reported to the Department of Child Safety at 1 (888) SOS-CHILD or to any law enforcement agency.
SUBMIT FEEDBACK
Click Below to:
More like this story