Tusayan trails to provide safety, recreation opportunities for residents and guests
Originally Published: April 3, 2018 9:27 a.m.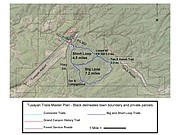 TUSAYAN, Ariz. — At a public meeting March 28, Trails Inspire's Sirena Dufault laid out the master plan for a trail system designed to give both visitors and residents increased recreation opportunities and provide commuter trails for local employees.
The map of planned trails, which was originally conceived in the summer of 2017, includes two loop trails, a series of smaller connector trails and a short, ADA-compliant Grand Canyon History Trail. After discussing the original plan with stakeholders, property owners and the Forest Service, Dufault presented a more streamlined system which could save the town up to $400,000.
Dufault said the trails system, which will belong to and be maintained by the town of Tusayan, can provide outdoor enthusiasts with more recreational opportunities — in addition to the loops, the system will connect to the Greenway Trail, an avenue into Grand Canyon National Park.
"We know that if visitors have more opportunities to recreate, they will stay longer and spend more money in local establishments," Dufault said.
Dufault also said encouraging residents to take ownership of the trail, via light maintenance, would help build a sense of community and pride. Local businesses could even sponsor sections of the trail, she said, to help with upkeep.
Although Tusayan Town Manager Eric Duthie said the town plans to be responsible for the systems maintenance in perpetuity, Dufault stressed that the trails would be built to last, taking into consideration water drainage, placement and traffic.
Trail stability and sustainability, along with required environmental impact statements, is part of the reason the whole project won't be completed for at least two more years. The project has been broken down into three phases, with the first — environmental assessments required under the National Environmental Policy Act (NEPA) — scheduled to be completed this summer. NEPA assessments are only performed during July and August, and Dufault said she planned to meet with the Forest Service's NEPA coordinated to get the ball rolling. Trails Inspire will also negotiate contracts with the Forest Service and any private landowners with trail crossings on their properties.
Phase three is actual construction of the trail and development of marketing materials and interpretation plans for the loops and Grand Canyon History Trail, which Dufault describes as being similar to the national park's Trail of Time, except instead of recording geological history, it will document the area's human and anthropological history.
The projected cost for the project is $256,285.
Liz Schuppert, recreation, lands and minerals staff officer for the Kaibab National Forest, is working with Dufault on the project, since the majority of land involved belongs to the Forest Service. Schuppert says the Forest Service's chief concerns are centered on long-term maintenance of the trails, such as weeding, care and replacement of any surface materials and tree removal.
"We also want to make sure we aren't disturbing an endangered plant or animal species," she said.
The public comment period is open through April 21. Residents and guests can leave comments online at http://tusayan-az.gov/trail-info/, via email at tusayantrails@gmail.com or by U.S. mail to Town of Tusayan – PO Box 709 Tusayan, Arizona, 86023.
---
SUBMIT FEEDBACK
Click Below to: