H.A. Clark Memorial Field in Williams acquires FBO
Originally Published: April 3, 2018 12:16 p.m.
The city of Williams has selected a new fixed-base operator to manage H.A. Clark Memorial Field. Northern Arizona Aviation, owned by Brad Olson and Chad Thomas, took over the management and services of the general aviation airport April 1.
Management of the airport has been a concern for the city for a number of years, according to council member Bernie Hiemenz.
Hiemenz said the city has been looking at ways to increase usage and partnering with the right FBO was an ideal way to accomplish this.
"The whole idea behind getting an FBO was to promote our airport," Hiemenz said. "It's just such a beautiful airport and we're not promoting it to its fullest."
The city announced a request for proposals for an FBO at the airport in February, with Olson and Thomas being the sole applicants.
Although neither Olson nor Thomas have FBO experience, both will bring aviation and business experience to the operation.
Olson is the owner of Days Inn and Kicks on Route 66 restaurant in Williams, and is a retired Air Force pilot. He is a Williams High School graduate and also has a master's degree in aeronautics from Embry-Riddle Aeronautical University. He owns two general aviation airplanes he has kept at H.A. Clark Airport for several years.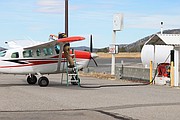 Thomas owns Performance Air Group, an aircraft maintenance business he opened at H.A. Clark in the fall of 2016. Thomas has over 25 years of aircraft maintenance experience, beginning with his AMT certificate from Embry-Riddle in Daytona, Florida, which led to working for Stellar Aviation where he worked on Citation and Falcon jets. Thomas eventually bought out Stellar and ran his own aircraft shop before moving to northern Arizona.
"Brad has been around aviation his entire life and his family has been in the fuel business for years," Hiemenz said. "Chad is well respected in the aviation industry, people come from all over to have their aircraft worked on by him."
Olson said he and Thomas have several ideas about how to increase traffic at the airport. This includes the addition of Jet A fuel.
"Having Jet A fuel at the airport will attract larger airplanes and helicopters, which will increase traffic," Olson said.
Olson said some larger planes and helicopters already fly into the airport, but they are unable to get fuel.
"We already have Vision Air and fire suppression helicopters landing at the airport," he said.
Olson said people will see other changes at the airport which will include personnel staffing the terminal building to assist pilots with fuel, hangar rentals, and tie down fees.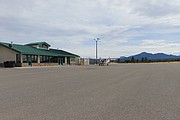 The hangar will have basic beverage and food options and a lounge with wifi and computer access for flight planning. A staff member will also help pilots with ground transportation such as car rentals and a courtesy car.
Thomas will continue operating Performance Air Group out of a hangar at the airport and assist Olson with on-site management of the airport.
"I've had airplanes here for years and when Chad started up here we could see bits and pieces of what needed to be done, it was frustrating," Olson said.
Although the city has had fixed-base operators at the airport in the past, with the most recent being Aviation Services of Northern Arizona in 2007, Olson believes Northern Arizona Aviation will provide management for the airport that has never existed before.
"Providing Jet A fuel, having a mechanic and having a business hours presence in terminal should really bump up business," he said.
Olson said the airport is in great condition with new hangars, a new card reader fuel system, a recently resurfaced ramp and a recently built air terminal.
"It's sort of like a ghost town right now, but we want to put some life into it," he said.
Northern Arizona Aviation has signed a 10-year contract with the city of Williams with an agreement to lease the facility for $1,000 per month. The company will pay a monthly flow fee for aviation sales and provide comprehensive liability insurance for the airport.
"It's on their end to make it profitable," Hiemenz said. "But there is big potential here, people fly across here every day."
H.A. Clark Memorial Field is part of the FAA's National Plan of Integrated Airport Systems. Inclusion within the NPISAS allows the airport to be eligible for Federal Airport Improvement Program funding.
According to the H.A. Clark Memorial Field Master Plan of 2007, the FAA has provided more than $5.7 million for airport improvements at the airport since 2000. Arizona Department of Transportation invested an additional $3.3 million. Some of these funds were used for runway modifications and widening, firefighting and rescue equipment, apron expansion and a fire station.
The terminal building and apron were constructed in 2000 on the southeast side of the runway. In 2008, the city began building the fire station, and the general aviation apron was expanded north in the spring of 2006. In 2015, the Williams City Council approved a loan from the Arizona Department of Transportation to build hangars at the airport.
"I'm excited," Hiemenz said about the new FBO. "I think a year from now everyone will be pretty amazed. I really do."
SUBMIT FEEDBACK
Click Below to: