Ash Fork School innovates with fewer staff
Originally Published: September 26, 2017 9:59 a.m.
WILLIAMS, Ariz. — A shortage of qualified teachers is making it a challenge to recruit and retain teachers in most schools in Arizona.
Teacher salaries in Arizona are among the lowest in the nation, which education advocates say is driving down teacher morale and making retention difficult.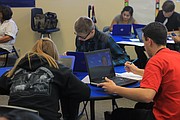 Currently, the median elementary school teacher salary in Arizona is $42,730, which ranks 48th in the nation behind Mississippi and Oklahoma, according to the Bureau of Labor Statistics. The national average for teacher's salaries is $52,000.
According to a survey by the Morrison Institute, about 40 percent of teachers work an additional job, either during the school year or over the summer to make extra money.
When Superintendent Seth Staples began working at Ash Fork Unified School District about 10 years ago, there were 24 teachers working in the district. Now there are 11.
"The teacher crunch is insane, you just can't find quality teachers," he said. "The bigger districts have it even tougher. Why would you want to get a four-year degree when the guy at Safeway and Dollar General are making more than you with less stress?"
Staples said one of his main goals is to increase the pay for his teachers.
When the district's Director of Student Services position became vacant this spring, Staples went to his staff to brainstorm about the position.
"I got great feedback," he said. "We basically took the position, chopped it up, and divided it among the staff we already had."
Staples said the district decided to select a lead teacher for each school from the senior staff to handle the duties a principal or student services position would normally handle.
One of the staff members also took on the role of athletic director.
Each teacher received an extra stipend for the additional duties.
"I was concerned we might spread ourselves too thin and I'd have to hire someone midyear," he said. "But they've done an excellent job."
Another way the district saved money was to eliminate a maintenance position. The cleaning duties were then distributed among the students.
"We bought vacuums and supplies that are shared between every two classes," he said. "We have a five-minute cleanup bell at the end of the day. They vacuum and do a great job. They don't seem to mind at all."
One of the teachers also took on an extra duty as the lead of the maintenance department, which was also a prior duty of the Director of Student Services.
"We asked him to be the person to create a vision of how we want our school to look," he said.
Staples said the teacher worked with the district to create an industrial trades class where students learn to work on projects around the school. They work on the plumbing, air conditioner units, lights and other repair projects.
"It's a win-win. The kids are learning some hands-on things, which many kids don't get anymore," he said. "It's giving the kids some good experience and its saving us some money."
Staples said the district also has had to deal with a shortage in the early elementary grades. The district had a vacant first grade position this year that Staples found difficult to fill.
"We really didn't get a good base of applicants," he said. "Our teachers work so hard and we have pretty high standards. I didn't want to just throw anybody into the mix."
Staples approached the kindergarten and second grade teachers about the idea of combining the classes. They decided to divide the small first grade class between the two classes.
"The teachers were up to the challenge," he said. "If they had said no, I would have gotten someone in there. I do think it's better to have a teacher there. It's just difficult with our options."
Staples said the district has also managed with the reduction in teachers by giving teachers dual roles. He said the social studies teacher and science teacher teaches at both the high school and middle school levels.
"I'd rather have rock stars and pay the heck out of them," he said.
The governing board has also instituted a program where if a teacher beats the state average in standardized testing for three years in a row, they receive a $10,000 increase in their salary.
"That's how we try to keep good teachers here," Staples said.
Staples said he has also reduced the administrative staff to divert more money to teachers.
"We used to have seven people in the office," he said. "Now it's just me and two others."
Staples said they use students as teacher assistants in the office, where they answer phones and help with simple tasks.
Despite the small staff, Ash Fork continues to create new programs for the students.
Staples said the district is working to create a program in which students can earn an associate's degree by the time they graduate from high school. He said select students would be able to use the college credits to fill high school requirements as well.
Some of the classes would be taught at the high school while others would be taught through the Virtual Classroom live-streamed from Yavapai College.
Staples said they also are continuing to push their students in the Joint Technical Education District (JTED) Program through Yavapai College. Currently students can take classes in aviation, pre-engineering, culinary, nursing, welding and automotive.
"We want to create more pathways for students," Staples said.
SUBMIT FEEDBACK
Click Below to: