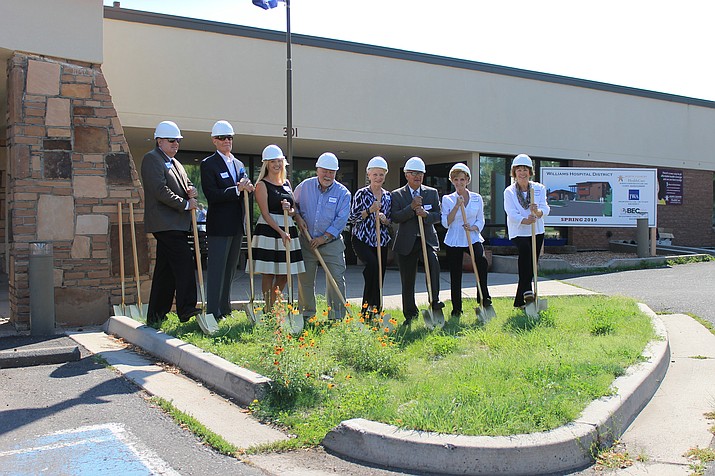 Photo by Wendy Howell.
Originally Published: September 12, 2017 3:48 p.m.
WILLIAMS, Ariz. — Williams Hospital District board members and its health care partners broke ground on a new health clinic in Williams Sept. 6.
After 67 years in the same building, Williams residents will soon be taking their health care needs to a state of the art facility said board member George Glen.
"We look forward to a beautiful structure," Glen said. "We want to thank the Northern Arizona Healthcare Foundation for the gracious grant to build this new facility for the people of Williams."
Northern Arizona Healthcare Foundation (NAHF) is funding the facility with a $6 million grant.
"We saw that this would really be an asset to this community," said Rick Smith, president and CEO of NAHF. "And it's not just for Williams, but for Seligman, Ash Fork and the surrounding areas as well. It's an opportunity to provide healthcare to those with limited access."
Smith said the focus of NAHF is community health. He said the group has three major focus areas: behavioral health, chronic illness and access to healthcare.
"People have to be able to have access to quality health," he said. "North Country HealthCare (NCHC) does a good job of providing that, but you need a good facility to do it in."
While the official ground breaking was Sept. 6, actual construction for the building will not begin until April of 2018.

The plan is to keep the old clinic open while the new clinic is under construction. The new building will be built where the existing parking lot is located and will face east.
The current health clinic was built in the 1950s. It has served as a hospital and clinic over the years.
"It's really an old building," said Mary Case, supervisor at the Williams clinic. "It has really old plumbing and electric, it's really challenging. It's past time for a new facility."
NCHC representatives said another problem with the old building is the layout. They said modern medicine has a workflow that follows a building's design, and the old building is a challenge.
"Most things in this building are more appropriate for a hospital in the 1950s than a modern clinic," said Anne Newland, CEO for NCHC.
Newland said NCHC, who is the contracted health provider for Williams, has worked alongside the Williams Hospital Board and JWA Architects with suggestions for improvements and design for the new facility.
"They have spoken with us all along the way," Newland said. "We've given them input for a primary care facility. I think part of our roll was giving them more resources, such as looking at other clinics to see how they are run. We have expertise in the field and they have utilized us for that."
Newland said the new facility will allow NCHC to better accommodate patients and provide additional services for the community.
The building will allow NCHC to continue with primary and urgent care needs for the community and the second floor will allow them to expand their physical therapy department.
The building will also have a large community room.
"That is something the district values here as well as we do - community," Newland said.
The Williams Hospital District Governing Board has been working to find financial backing to replace the existing clinic for several years.
Glen said a needs assessment was done several years ago and it was determeind that to modernize the existing structure would cost approximately $9 million, and building a new facility was about $6 million.
When the grant was received, the group chose to partner with JWA Architects, who has already worked on many improvement projects at the current health clinic.
"We've worked with this board for a number of years," said Tim Whiteside, project manager at JWA Architects. "We have been the design team for various remodels of this building including work on the urgent care department and reorganizing the exam rooms."
Whiteside said he is happy to continue the partnership with the Williams Hospital Board in the creation of a new clinic.
"It's really exciting to see," he said. "All of their patience has paid off and we get to help with the dream."
Although Whiteside's team has worked on several clinics, including NCHC in Springerville, Flagstaff and Holbrook, the Williams' clinic will be unique.
"One thing is that this clinic has an urgent care department," he said. "The other thing is the heritage. It's a replacement facility and kind of a beloved facility. There is tremendous history here. We hope to retain some of that with the use of some of the old stone."
Whiteside said the architect and construction team have a lot of work to do over the winter before construction actually begins in the spring.
"We're finishing our design work," he said. "We're doing our construction drawings and working with the construction manager on pricing."
Whiteside said they are also working with the city to get permits finalized and arranging for utility hookups.
"At the end of the road there will be a nice new facility," he said.
More like this story