One person dead in devastating house fire
Three escape from Garland Prairie home
Originally Published: October 31, 2017 10:01 a.m.
WILLIAMS, Ariz. — A man died and three other family members escaped flames that swept through a Garland Prairie home in the early morning hours of Oct. 24.
John Haviland died in the fire, while his son and daughter-in-law, Nathaniel and Karli Haviland and their infant daughter managed to escape and call 911 from a neighbor's home.
John Haviland worked at the Museum of Northern Arizona and was a moderator at First Congregational Church in Flagstaff.
Firefighters received the call around 12:45 a.m. and responded to Horse Hill Trail in the Pine-Air Estates area of Garland Prairie, according to Lee Antonides, fire chief for the Ponderosa Fire District in Parks.
When firefighters arrived, they found the two-story, site-built home fully engulfed in flames.
"The structure was fully involved when the engine company got on scene," Antonides said. "They started their initial attack right away, but because the structure was fully involved there was no way to get inside to attempt any rescue."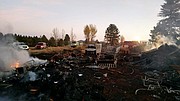 Antonides said firefighters and EMS personnel responded from Camp Navajo Fire Department, Williams Fire Department, Flagstaff Fire Department, Sherwood Estates Fire District, Life Line ambulance, APS and Coconino County Sheriff's Office.
Antonides said he was grateful for additional fire departments that responded to the call since Ponderosa Fire only had a three-man engine available that day. He said approximately 30-35 people responded.
"The tremendous response from our mutual aid partners was key in keeping it from spreading to the neighbors," Antonides said. "We did have one acre of wildland fire that stemmed from the home. It burned up to two manufactured homes, a travel trailer and a boat. Fortunately, we were able to keep it from spreading to all of those."
Antonides said Flagstaff Fire Department and Coconino County Sheriff's Office is investigating the cause of the fire. He said at this time the cause of the blaze is undetermined, but he said it did appear to have started near the front of the house or on the porch.
The family was unable to grab any of their belongings or pets, and the house was completely destroyed, including two vehicles in the driveway.
Nathaniel said the home was equipped with smoke alarms.
John Haviland's memorial service is scheduled for Nov. 3 at 5:30 p.m. at the Museum of Northern Arizona.
A GoFundMe account has been created to help the Haviland's family and can be found at gofundme.com/haviland-house-fire.
SUBMIT FEEDBACK
Click Below to:
More like this story